November 2018 Newsletter
Posted on Dec. 3, 2018
Give Thanks
This time of year many of us begin to think about all the things we are thankful for.

One thing I am very thankful for is for those who have made a decision to sponsor a child in order to give them the gift of HOPE for a better future.

I thank God every time a SPONSOR comes on board to join in the effort to "preserve and protect precious lives."

When a student thanks me, they are really thanking YOU. When I hug a child, it is YOU who are hugging that child.

More than once a student has come to me and said, "Thank you for making me to become a somebody." (You see, in this part of the world a child is a nobody, and an orphan child is doomed to never be a somebody because they have have fallen into a life of abuse.) When they thank me, they also ask me to thank YOU! YOU have made these children to "become a somebody" in the world. YOU have changed their life more than you will ever know.

I am thankful for every child sponsor, donor, prayer partner, and everyone who has done anything to "protect these precious lives."

Thank YOU from SCM and the children! YOU have made a difference!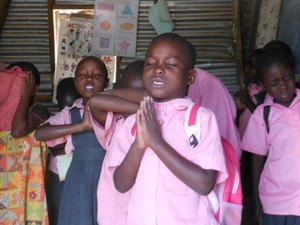 "Give thanks to the Lord, for he is good; his love endures forever." Psalm 107:1
Operation Christmas Shoes
There is still time for you to give a child a gift for Christmas!

$25 supplies a child with new shoes, socks, and uniform for the 2019 school year.
This means so much to a child in this part of the world who cannot go to school without the needed uniform. For $25 you can provide a child with this special gift.

We will accept gifts for Operation Christmas Shoes until Dec 31 (select Operation Christmas Shoes from the dropdown menu).
If you sponsor a child, this is how you can give them a Christmas gift.

Currently we are half way to our goal of $3250.
Consider a tax deductible donation TODAY!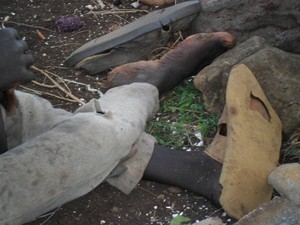 Mission Expedition 2019
Now is the time to submit your application and start planning for July 2019.
Spend your days immersed in the culture and lives of the children who call
New Beginnings Children's Center HOME.

Show the love of Jesus to a remote community through home visits to their modest mud houses while taking supplies to the poorest widows.
Change their lives AND change your life...FOREVER!

Our missionaries enjoy an overnight safari on the world famous Masai Mara. July/August teams often experience the migration season.

Our missionaries stay in missionary housing of brick construction on the secure grounds of our children's center in a very beautiful, remote part of Kenya.
Change their lives AND change your life...FOREVER!
Youth groups, families, singles, are all welcome.

Visit our Missions Page for more trip details, and to download an application!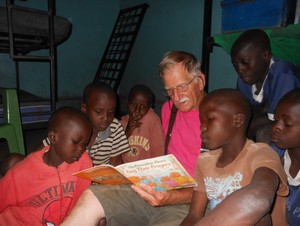 Want to stay longer?
Apply for a 1-6 month internship ($1000 for first month and $500 for each month thereafter).

Our intern program at New Beginnings Children's Center is growing and changing.

Come and be immersed in the culture and lifestyle of this remote area as you live within the secure grounds of our children's center.

Your personal faith will grow as you attend the weekly Bible studies and team up with our Kenyan interns to hold Bible studies for the children. You will be assigned various jobs around the center as well as serve as a tutor for children. This is a chance to serve and live in a foreign culture within the safety of our children's center.

Is God calling you to journey with Him to this remote part of the Africa and experience His world?

Visit our Long-term Missions Page for information about internships and long-term mission trips.

Must be over 18 years of age to apply as an intern.
Long-term mission opportunities available.
Come LIVE in Kenya!
Contact our office for details!

New Beginnings News
New Beginnings Children's Center remains a busy place during the school holiday season. Some children have gone to visit their guardians, as we work to help them keep a strong connection with their families. Many others remain on campus. Our children are only permitted to go to visit if their guardians understand the conditions to keep our children safe while they are with them. Some we have deemed not safe at home, and others' guardians have told us they are unable to provide the supervision/provisions for the child to visit at home.

For those who remain, we try to give the children extra attention and extra activities. We want to make it an enjoyable time for them. We want them to enjoy their time at HOME at New Beginnings.

This time of year we also try to give some of our staff vacation time. Often they can be seen enjoying that time just visiting friends on Market Day. They miss that social time each week, but feel blessed to have a steady income to provide for their families.

Some of our university and college students have come home and want to serve at New Beginnings during the holiday break.

Please pray for our children and staff at this time of year.
School News
School in finished for 2018!
Primary School
School has dismissed for 2018. The children are on a two month break before the new school year begins in January. Our 8th grade students have finished their National Exams and the results have been released. We are so happy to say that ALL of our 8th grade students scored high enough to go on to secondary school. (We have a benchmark score that our students need to make to go to secondary or we send them to vocational training.) They have worked very hard and feel they are ready for high school in 2019. We are very thankful to our teaching staff for leading these students to success. Please keep all students and staff in prayer as they move forward.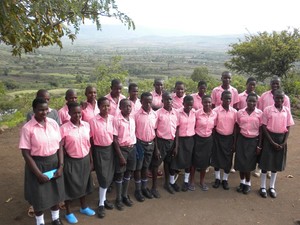 We are proud of what God is doing in their lives!
They are ready for high school!
Secondary School
Our secondary school is on school holiday until January of 2019.

Our 12th grade have finished their final exams. This is a stressful time that was made a little harder by the death of one of their classmates. An empty desk was kept in the classroom in memory of Moses. The students were determined to do well in his memory. They feel they have succeeded and we await the results to be released in Dec. We are very thankful for our secondary staff that have worked very hard to make this possible for these students.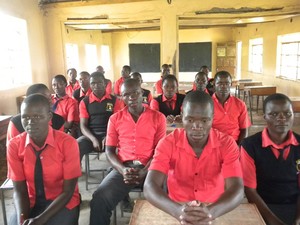 Pray for our graduating class as they prepare to go out into the world.
May God go with them.
Project Development News
We have been working hard all year to make all the needed adjustments to our primary and secondary school to meet the Kenya codes required for the final registration. We have completed the 4th classroom for our secondary school.

The excavation is finished for building our secondary office. Working on the side of an extinct volcano has many challenges. Often when we begin to excavate we find solid rock. Even though the area for the offices was not as steep of an incline, the rock was solid and took a lot of men to break it up and move it out. The area is now prepared for the building. Once the secondary offices are finished, we will be ready for school to start, but we will still need to build our laboratory to meet the codes.

We have also started the completion of the three primary classrooms that need work to be ready for the January school year.

We have had to adjust our estimate for building in light of the fact that our classrooms need more work than originally thought. Some foundation work needs to be addressed to do it properly. This will add an additional $2000 to our projected costs.

So much to do in such a short amount of time, but with God ALL things are possible.

We cannot do it without your prayers and support.

We have seen that our primary school and secondary school are doing so much for these children, with many qualifying for university when they graduate.

Please join us in this important endeavor to keep both our primary and secondary schools going strong.

We still need about $16,000. Please consider a generous year end gift to help us reach this goal for our schools AT THIS IMPORTANT TIME!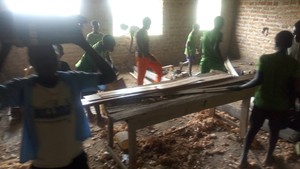 Clearing out the unfinished classroom that has been used as a workshop and storage.
Time to make it a usable classroom.
Building for their future!
Primary and Secondary School Goals Total Donated Balance needed
Fourth Classroom $5,000 $5,000 $0
Science Laboratory/Office $11,000 0 $11,000
Complete 3 classrooms $11,000 $6,000 $5,000
$27,000 $11,000 $16,000

Can you help build for their Future?
Donate TODAY!
"Now may He who supplies seed to the sower, and bread for food, supply and multiply the
seed you have sown and increase the fruits of your righteousness.
2 Corinthians 9:10

Please join us in praying for finances for all these projects!


Child of the Month
Meet Amara!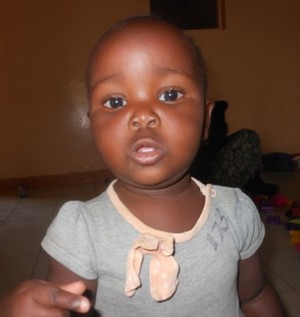 Amara (which is short for Ismarelda) was born to one of our teens. Her mother has finished our sponsor program and will continue on with us in an extended program to help her further her education and move into a secure future.

If we had not continued to help Amara's mother, she most likely would have ended her pregnancy with an abortion. Although abortions are illegal in Kenya, they are very common, especially in our area.

Beautiful Amara is 15 months old. She is walking and beginning to talk. She enjoys her life at New Beginnings and loves being with the other small children. She has a bright future full of love but she needs a sponsor.

Please pray for Amara to remain in good health, pray for her mother to focus on her education, and pray for Amara to find a sponsor.

For just $40 a month you can make a difference in her life.
Please pray for Amara and consider being an answer this prayer.

Contact us and let us know if you would like to sponsor Amara!
College/University Scholarship Program
Currently we have five students in our scholarship program. This year's Scholarship recipients are:

Brighton and Stephen who are currently in university and colleges. They were our interns in 2017.
Brighton is studying Industrial Chemistry.
Stephen is completing a course in Social Science.
Our 2018 interns are now in universities and colleges.
Jescar is studying to become an administrative assistant.
Vincent is taking a course in plant management.
Geoffrey is studying to become a secondary teacher with a major in English.
We miss them as they have been a blessing to us during the past year.
However, we know we will see them again.
Please keep them in prayer.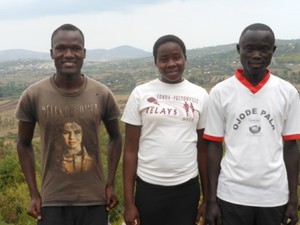 These students never dreamed they could go on to college/university, but God has made a way. Thanks for giving to our scholarship fund to make this possible.

Please donate to our College/University Scholarship Fund to help give them and others an amazing future.
Children in Need
We praise God that Brigit, John Junior, Natasha, and Cynthia have all found sponsors!

Currently we have several children living at New Beginnings who have lost their sponsors or are not fully sponsored. To remain in our program, we need your help to find them sponsors.
Please share this great need with your family and friends.
Meet Felix!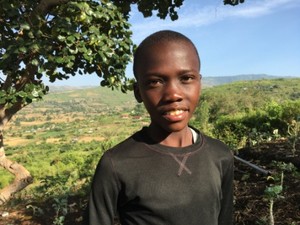 Felix is 13. When his father died, his mother was unable to provide for her children although she has donated a portion of land to New Beginnings. Felix needs a partial sponsor. For just $40 a month, you can help change his life.

A child is praying...are you the answer?
100% of all sponsor donations go to help the children.
Meet Jackline!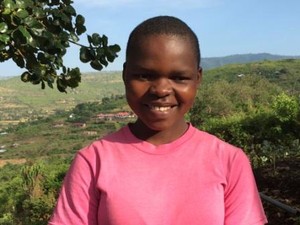 Jackline is in 9th grade and hopes to continue her education in vocational training next year. She cannot continue without your help.

You can sponsor Jackline or another child for $40 as a partial sponsor or $80 for a full sponsorship per month.

A child is praying...are you the answer?
100% of all sponsor donations go to help the children.
Meet Kevin!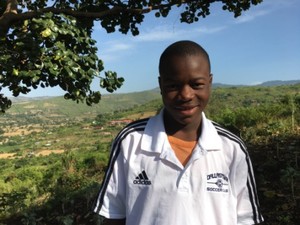 Kevin just finished 9th grade and hopes to continue in high school. His father is deceased and his mother is crippled from polio.

You can sponsor Kevin or another child for $40 as a partial sponsor or $80 for a full sponsorship per month.

A child is praying...are you the answer?
100% of all sponsor donations go to help the children.
"..when you did it to the least of these...you were doing it to me!" Matthew 25:40

If you would like to sponsor a child, you can do so through our Sponsorship Page using PayPal,
or send a personal check to our address.

You can BE THE DIFFERENCE in the life of a child!
Shalom Christian Missions is a 501(c)3 non- profit organization,
dedicated to serving children in need throughout the world.
All donations are tax deductible.
Special Thanks to our Supporters:
A & R Rental Center - York, PA
Freedom Wireless - York, PA
Abundant Life Ministries - Pulaski, VA
Ann Downing Ministries - Hendersonville, TN
Christ American Baptist Church Youth - Spring Grove, PA
Christ American Baptist Church - Spring Grove, PA
Crestline UMC Children - Crestline, OH
Crestline UMC - Crestline, OH
Eagle Christian Ministries - York, PA
Elisha's Home and Ministries - Montrose, PA
First Baptist Church - Smithville, TX
First Evangelical Lutheran Church Youth - Chambersburg, PA
First United Church of Christ - Schuykill Haven, PA
Harvest Chapel - Abbottstown, PA
Harvest Chapel Children's Ministry - Abbottstown, PA
Mansfield Christian School - Mansfield, OH
Trinity Lutheran Church - Crestline, OH
Zion Bible Church - York, PA

We would like to add your business or ministry to our list!
Contact us TODAY!

May God bless you as you pray and give to help the children!
Donations may be made through PayPal
or you may send your donation to:

Shalom Christian Missions
1255 Mill Creek Rd
York, PA 17404
(717) 586-6945