January 2019 Newsletter
Posted on Jan. 12, 2019
2018 was Full of Miracles
2018 was an amazing year full of miracles. I hope you will take time to click on the link below to see just a little of what God was able to do because so many of you gave. Every prayer, every dollar, and every person who steps foot on the Hill at New Beginnings is a total blessing from God, and we are grateful. Thank you!

Click to view a short video:
2018 in Review Video

2019 is starting out to be another year that will see many of God's miracles. With only about a week into the school year, we are seeing an increase in registration for new primary school students. This is due in part to our reputation for turning out high scoring students (meaning we give a quality education), having a breakfast feeding program for all our students, AND for having good quality classrooms and NO IRON SHEET classrooms. Many have told us the new classrooms have been a deciding factor in sending their children to our primary school. That is because all of YOU have made these things possible.

Our secondary school just started this week and we are already seeing an increase in student enrollment. We are still working on getting all the funding needed for the science laboratory for our secondary school. Once we have the science lab built it will also attract more students. A good science program is a must for a high-quality high school education. Please keep praying; we are in need of about $3,500 to reach our goal to build the lab.

2018 also saw us caring for 133+ children (including some who came for temporary care until family was located). The physical changes in these children are apparent as they receive good nutrition, medical care, and a safe place to live and grow. But to watch as they gain confidence in who they are in Christ and not what the world wanted to make them believe is an even bigger miracle. For children who have been abused and carry a lot of burdens when they come to New Beginnings, it is such a miracle to see their lives transform. Helping them claim their identity is life changing.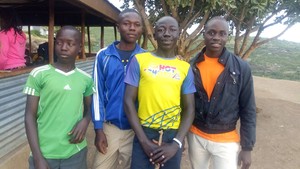 Currently we have 9 children living at New Beginnings who have no sponsors, and 7 who are in need of partial sponsors. Please pray that we find sponsors for them quickly. If you know anyone who might be interested, please pass this on. This is a great way to allow God to use you to bless these children.

We hope you will continue to pray, donate, and serve with us in 2019. I am sure that God will do over and above what we witnessed last year, with your help.

God has placed this scripture on my heart for 2019:

"Carry each other's burdens and in this way you will fulfill the law of Christ." — Galatians 6:2

Let's all be burden carriers for Christ. He carried ours, now let's carry His.
Are YOU a Burden Carrier?

Operation Christmas Shoes
A BIG THANK YOU!! to everyone who gave to make Operation Christmas Shoes a success! The uniforms are still being made and a few shoes are on back order but your generosity made it possible for the children to get new uniforms and shoes once again.

You also made it possible to give some gently used uniforms to community children who are in need of a uniform.

What a great blessing!

Thanks so much - we can't do it without YOU!
Mission Expedition 2019
Now is the time to submit your application and start planning for July 2019.
Spend your days immersed in the culture and lives of the children who call
New Beginnings Children's Center HOME.
Show the love of Jesus to a remote community through home visits to their modest mud houses
while taking supplies to the poorest widows.
Change their lives AND change your life...FOREVER!

Our missionaries enjoy an overnight safari on the world famous Masai Mara.
July/August teams, often experience the migration season.
Our missionaries stay in missionary housing of brick construction on the secure grounds of our children's center, in a very beautiful, remote part of Kenya.

Youth groups, families, singles, are all welcome.
(Must be 13 or older to travel without a parent or guardian)
Find 2019 Summer Trip dates* and details on our Missions page!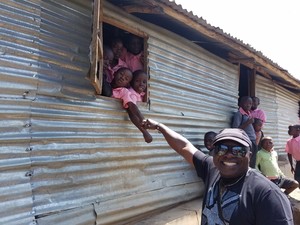 Travel as a group OR travel alone and make new friends who will serve with you.
Discounts for leaders (of groups of 10 or more) and we do all the training/planning. Make plans to bring your whole group.

Set up the dates NOW while there is plenty of space open.
Visit our Missions Page for an application or call 717-586-6945.

*All dates are tentative until airfare is booked.

Can't make the dates? Contact us for other dates.

This is a unique opportunity to experience life in a very remote part of the world.
Don't pass it up!
Want to stay longer?
2-6 month internship ($1000 for first month and $500 for each month thereafter)
Our intern program at New Beginnings Children's Center is growing and changing.

Come and be immersed in the culture and lifestyle of this remote area as you live within the secure grounds of our children's center.

Your personal faith will grow as you attend the weekly Bible studies and team up with our Kenyan interns to hold Bible studies for the children. You will be assigned various jobs around the center as well as serve as a tutor for children. This is a chance to serve and live in a foreign culture within the safety of our children's center.

Is God calling you to journey with Him to this remote part of the Africa and experience His world?

Visit our Long-term Mission Opportunities page to learn more about Internships and Long-term missions and get ready to serve.

Internships run from 1 months to 6 months.

Must be over 18 years of age to apply as an intern.
Long term mission opportunities available.
Come LIVE in Kenya!
Contact our office for details!
New Beginnings News
The children had a wonderful holiday and most were able to spend a little time with their guardians during the school break. We were blessed to have over 50 with us for Christmas. What a special time. A Christmas Eve service brought in the day celebrating our Lord and Savior Jesus. There were special foods and activities throughout the day. The children were told they will receive new school shoes and uniforms as their gift. This is a real treat for them. Thanks so much to all who gave to make this possible.

Our children had to say goodbye to two house parents, as one left to return to university and another left the House Parent position to take a position teaching in our primary school. We are blessed by Eveline and Phena who have come to take their place and serve the children.

We also welcome Evans who has joined our ground and maintenance crew and Moses who is serving in our primary school and tutoring some of our students.
School News
Our 2019 school year has begun!
Primary School
The first week of school was a very busy time. Our teaching staff made the decision to wait until the students arrived and have them participate in transferring the primary classrooms to the secondary classrooms and vise versa. Our primary school numbers are growing in part due to the improvement in our classrooms. Our students no longer learn in the iron sheet classrooms that sometimes would cause serious cuts and injuries to our children. There is still much to be done in the classrooms but this was a big step.

Our goal for the future is to build two preschool classrooms near the children's playground. We hope to install a new solar power system for electricity in the classrooms. We also need to begin to place ceilings in the classrooms so that during the rainy season class doesn't need to stop when it rains too hard to hear. Plus much more. We still have lots to do.
Join us in praying and donating.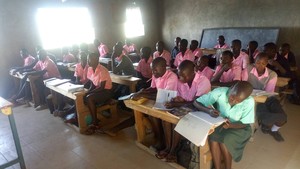 Secondary School
Our Secondary School was off to a great start this week. Many new students have been registering for class. We have our classrooms and offices but still need to build our Science Lab. This is a must for us to get our final registration but also for teaching the students. Having a quality education means they must have a good science lab to learn in. We still need about $3,500 to build our Lab. Consider a donation to see this happen for the students in this remote area. Most of our students cannot afford to attend a school outside the area. Help us give them a GOOD school to attend that they can afford. They need your help!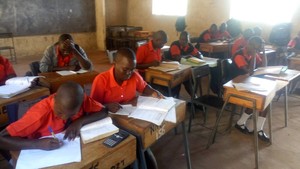 Project Development News
PRAISE GOD!!

Because of YOUR prayers and YOUR donations we have raised over $23,000 for our needs to Save Our Schools this year. We are still in need of $3,500 to reach our goal to finish our Science Laboratory.

This seemed impossible for us at the beginning of the year BUT GOD made it possible through each of you who gave.

Our staff and community workers labored tirelessly, even on New Year's Day, to finish the job in time for the children to begin their new school year in the new classrooms. The children are so happy to no longer have iron sheet classrooms that often leaked in the rain. They no longer deal with dirt floors that flood when the water washes through, or the possibility of a snake finding a way in through the dirt. They won't have problems with dusty dirt floors during the dry season, giving a place for chiggers to breed and burrow into their skin. Yes, these are some of the challenges we had to learn to overcome when you have dirt floor classrooms. And still, our school has gotten the reputation for giving the BEST education in the area.

Thanks to so many who have really made this dream come true for so many children who just want a chance in life. They want a chance to learn so that their lives can be a little better than their ancestors. For a child who is an orphan, this is nothing more than a miracle to have this chance. The comment we hear the most from our students as they leave our program is, "Thanks for making me to be a somebody." The life of an orphan in this part of the world means you will be a nobody in life, with no future. YOU have changed that for these children

We are all blessed to know each of YOU!!
Building for their future!

Primary and Secondary School Goals Total Donated Balance needed
Fourth Classroom $5,000 $5,000 $0
Science Laboratory/Office $11,000 $7,500 $3,500
Complete 3 classrooms $11,000 $11,000 $0
$27,000 $23,500 $3,500

Can you help build for their Future?
Donate TODAY!
"Now may He who supplies seed to the sower, and bread for food, supply and multiply the
seed you have sown and increase the fruits of your righteousness."
2 Corinthians 9:10
Please join us in praying for finances for all these projects!
You can make a donation to our Building Fund here!
Child of the Month
Meet Rolex!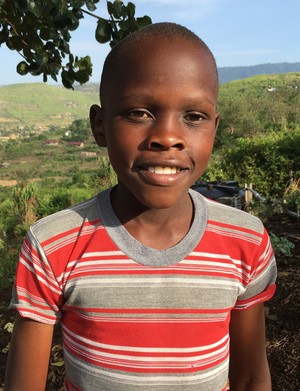 Rolex is 12 years old and in 8th grade. His father is deceased and his mother has had several other men in her life, many whom have been abusive to Rolex and his sister. He came to us needing a safe place to live. He is a good boy and a very smart student who excels in Math. He has a very bright future but is in need of a sponsor.

Rolex is asking for prayers to be able to focus and do well in school, but mostly to find a sponsor.
Thanks for your prayers for Rolex.

Visit our Child Sponsorship page to become Rolex's sponsor TODAY!
College/University Scholarship Program
Currently we have 3 students in our intern/scholarship program.
This year's intern/scholarship recipients are Geoffrey, Neema, and Timothy.

Geoffrey, who was an intern in 2018 and is currently in university, is studying to be a teacher with his major in English.

Neema and Timothy have just begun our intern program for 2019. This will help qualify them for the scholarship program. They will be assigned a job to do during the day but one of the key things they will be responsible for is helping our younger students during morning and evening study times. Our interns will be taught how to dress for the job, how to behave on the job, etc. They will be taught proper time management and money management. They will attend a weekly Bible study and help with Bible studies for the younger children. We will provide our interns with a computer training course during this time which will help them immensely when they move on to college/university.

It will not be an easy year and if they do not adhere to our strict rules, they will be dismissed from the program.

Please keep them in prayer.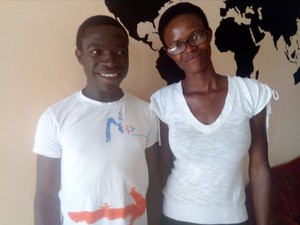 Our 2019 interns, Timothy and Neema
Donate to our College/University Scholarship Fund to help give them and others an amazing future.

You can donate to the scholarship fund for a certain student or a general donation to the Scholarship Fund. If a student goes over and above what is needed, the funding will help another student in need.
Children in Need
We praise God that Amara, Jackline, Filda, Duncan, and Felix have all found sponsors!

Currently we have 9 children living at New Beginnings who have lost their sponsors or came as an emergency cases.
We also have 7 who need a partial sponsor.
To remain in our program, we need your help to find them sponsors.
Please share this great need with your family and friends.
Meet Velma!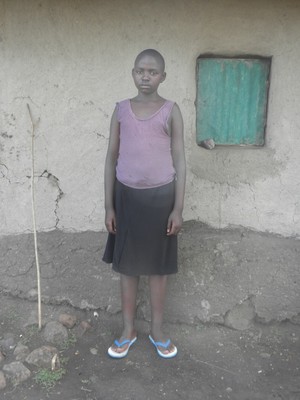 Velma is 12 years old. After her father's death, her mother abandoned her. Her aunt is unable to care for her and is requesting help.

You can sponsor Velma or another child for $40 as a partial sponsor or $80 for a full sponsorship per month.

A child is praying...are you the answer?
100% of all sponsor donations go to help the children.
Meet Kevin!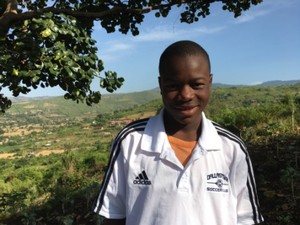 Kevin is in 10th grade. His father is deceased and his mother is crippled from polio.
Kevin has seizures and is in need of special medical care.

You can sponsor Kevin or another child for $40 as a partial sponsor or $80 for a full sponsorship per month.

A child is praying...are you the answer?
100% of all sponsor donations go to help the children.
Meet Stracy!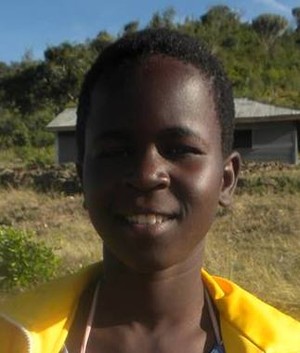 Stracy is 13 and in 8th grade. Her father was an inheritor who has abandoned the family. Her mother is unable to provide for Stracy. She lives at New Beginnings, but needs a partial sponsor. Can you help Stracy?

You can sponsor Stracy or another child for as little as $40 per month.

A child is praying...are you the answer?
100% of all sponsor donations go to help the children.
"..when you did it to the least of these...you were doing it to me!" Matthew 25:40


If you would like to sponsor a child, you can do so through our Child Sponsorship page
or send a personal check to our address:
Shalom Christian Missions
1255 Mill Creek Rd
York, PA 17404

You can BE THE DIFFERENCE in the life of a child!
Shalom Christian Missions is a 501(c)3 non- profit organization,
dedicated to serving children in need throughout the world.
All donations are tax deductible.

Special Thanks to our Supporters:
A & R Rental Center - York, PA
Freedom Wireless - York, PA
Abundant Life Ministries - Pulaski, VA
Ann Downing Ministries - Hendersonville, TN
Christ American Baptist Church Youth - Spring Grove, PA
Christ American Baptist Church - Spring Grove, PA
Crestline UMC Children - Crestline, OH
Crestline UMC - Crestline, OH
Eagle Christian Ministries - York, PA
Elisha's Home and Ministries - Montrose, PA
First Baptist Church - Smithville, TX
First Evangelical Lutheran Church Youth - Chambersburg, PA
First United Church of Christ - Schuykill Haven, PA
Harvest Chapel - Abbottstown, PA
Harvest Chapel Children's Ministry - Abbottstown, PA
Mansfield Christian School - Mansfield, OH
Trinity Lutheran Church - Crestline, OH
Zion Bible Church - York, PA

We would like to add your business or ministry to our list!
Contact us TODAY!!

May God bless you as you pray and give to help the children!
Donations may be made through PayPal
or you may send your donation to:
Shalom Christian Missions
1255 Mill Creek Rd
York, PA 17404
(717) 586-6945