Ministry Vehicle
Our greatest need in continuing to develop the children's center is the need for a vehicle. We need to raise $23,000 to purchase a used, older model Land Rover/Land Cruiser with an extended body, which we believe will be able to handle the rough terrain of rural Kenya. We will use this vehicle to transport children, missionaries, food, and building supplies at New Beginnings Children's Center.
We cannot do this without YOU! We pray you will consider a one time donation to help us meet this goal.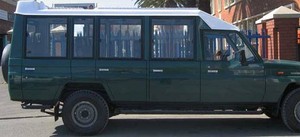 The type of vehicle we hope to purchase.