April/May 2017 Newsletter
Posted on May 1, 2017
Season of Hope
What a beautiful time of year. Spring seems to usher in a season of hope. For the children of New Beginnings in Kenya, just having the opportunity to live at New Beginnings is a season of hope. We thank those who have made the decision to sponsor a child and for giving them this new season in their lives.
For many in our community in Kenya, it is a season of despair. The past year brought a time of little rainfall and this past harvest saw crop failure. In a community that depends on small scale farming to provide food for them to eat, it is a very difficult time. Many in our community are becoming desperate in finding food to eat. They might not live in a dry arid part of Africa but when you live in a farm community and they suffer crop failure, they also suffer from famine. We praise God for those of you who have given to help us try to support our community during this time of famine. If any of you are interested in helping with famine relief, here are the measures we are currently taking to help.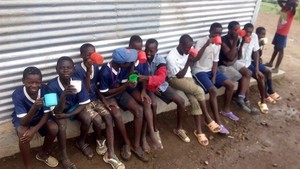 We have expanded our breakfast feeding program to ALL the students of our school. Porridge is served between 10-11 AM. It is very nutritious and keeps the children from feeling hungry until school ends. This means that for the families, they only need to feed the children once a day if need be. We continue to look for other ways that we can possibly help the community as many more begin to suffer from a lack of food.
Please pray for rain to help give the community a good harvest season this time. They have planted in faith and are praying that this season the rains will come and they will have plenty to eat and provide for all.
College/University Scholarship Fund
NEW, NEW, NEW!
We are happy to announce three students whom we have named as recipients of our College/University scholarship fund. All three young men have been with New Beginnings since they were little boys and finished our sponsorship program last December. This year all three are serving as interns at New Beginnings and making a difference in the lives of the other children. They are great mentors.
Brighton Andar has applied at the University of Nairobi where he hopes to study Electrical Engineering.
Costs he will need for the first year = $1,000 (plus transport, etc)
Our hope is that after the first year, he will then qualify for grants and loans, through the government of Kenya, to help him.
He will work for a Bachelor of Science in his field.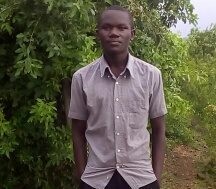 Brighton
Stephen Ondick will attend the African Institute for Research and Development where he will pursue a degree in Social Sciences.
Costs for total of degree program (2 years) = $1,200 (plus transport, etc)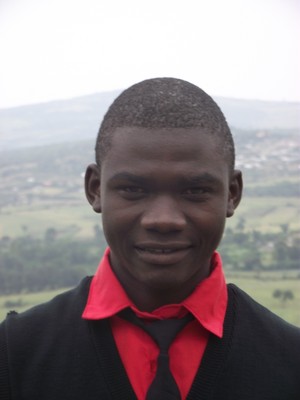 Stephen
David Onyango is attending St Paul's Teachers Training College where he plans to graduate as a certified preschool teacher.
Cost for total program =$500 (plus transport, etc)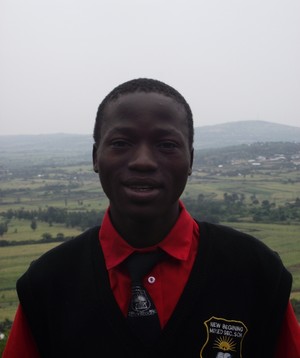 David
You can give a one-time or monthly donation to any of these three students by adding their name to the memo of your donation on the Paypal page or on the bottom of your check OR you can choose to give to the College/University Fund in general.
Please keep all our graduates in prayer as they seek to serve the Lord in whatever field God takes them.
Thanks for making this possible for these students.
Calendar of Events!
April 28-30, 2017: Women's Retreat
Ladies, come and join us at Ann Downings Middle Tennessee Women's Retreat in Nashville, TN
Great music and great speakers. You won't regret it!!
Join us!!
www.anndowning.com
June 2-3, 2017: RAW Conference
Ladies, if you live in the PA/MD area, come on out to the Reaching All Women Conference.
Register now and save!!
www.reachingallwomen.org
Would your small group, church, Sunday School, VBS, or organization be interested in hearing a motivational talk about the challenges of serving orphans in a remote part of Africa?
Please email or call us to schedule a date.
Year of Giving
For those who would like to collect material donations for the children, we are in need of small toys and candies that we can pack into gift bags to hand out during our celebration in July. We are also in need of small book bags(single or double strap) for all the children.
Send all donations to:
Shalom Christian Missions
1255 Mill Creek Rd
York, PA 17404
Give Your Sponsored Child a Gift
Now is the time!!
We will have a special celebration with them with the July team and your gift will be presented to them. Remember that your gift needs to fit into a gallon size ziplock bag, should not be expensive, and should include a letter and if possible some pictures, to your sponsored child.
All gifts need to reach our office before May 1st!
NOW is the time to send your gift!!
Expedition 2017 & 2018
"What will I do on a mission trip?"
That is often the question people ask.
The answer: What is God calling YOU to do?
From Bible School, to construction work, to medical care, taking gifts to widows in their mud homes, to sharing the Gospel through drama. Our teams have done it ALL!
What is God calling you to do?
Not sure...take a step of faith and see what God shows up to do.
It will be more than you ever dreamed or imagined.
Our missionaries stay in missionary housing of brick construction, on the secure grounds of our children's center, in a very beautiful, remote area of Kenya.
Spend time immersed in the culture and lives of those who call New Beginnings Children's Center HOME.
Show the love of Jesus to the community.
Change their lives AND change your life...FOREVER!
Youth groups, families, singles, are all welcome.
2017 Summer Trip-- Applications NOW being accepted!
APPLICATIONS for the summer team will be accepted until May 15th only!
Visit our Missions Page for more information about specific trip dates/costs and to download an application.
July 16 - Aug 2, 2017 (2 weeks) $1500 + airline ticket
July 2 - Aug 2, 2017 (1 month) $1900 + airline ticket
All trips include an overnight safari to the world famous Masaii Mara Game park.

*Dates are tentative until airline tickets are purchased.
There are still a few spaces open BUT time is running out!
The sooner we ticket, the better price on airfare.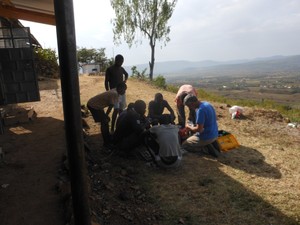 2018 Winter Trip--Applications NOW being accepted!
January 20 - February 3, 2018 (2 weeks) $1500 + airline ticket
January 20 - February 20, 2018 (1 month) $1900 + airline ticket
Travel as a group OR travel alone and make new friends who will travel with you.
Make plans to bring your whole group!
Discounts for leaders and we do all the training/planning.
Set up the dates NOW while there is plenty of space open.

All Dates are tentative until airfare is booked.
This is a unique opportunity to experience life in a very remote part of the world. Don't pass it up!
Want to stay longer?
2-6 month internship ($1000 for first month and $500 for each month thereafter)
Long term mission opportunities available. Come LIVE in Kenya!
Visit our Long-Term Mission Opportunities page for information about internships and long-term mission options!
SPECIAL! LIMITED TIME OFFER FOR YOUTH LEADERS AND PASTORS!
Contact us about a free trip to New Beginnings in Kenya. (You pay airfare.)
Contact us for details TODAY! Don't wait, offer limited - first come first serve!
Urgent Medical Need
For a while now we have had some concerns that one of our girls has a hearing problem. Our director made a decision to take Ephy to the best mission hospital in Kenya to have her accessed by a ENT and an audiologist. The answer was, yes, she does have some hearing loss and it will most likely continue to get worse unless surgery is done. The good news is that with the surgery there is a good chance that she will recover all her hearing loss. The cost for the surgery, transport, etc comes to $500. This is well over and above our medical budget.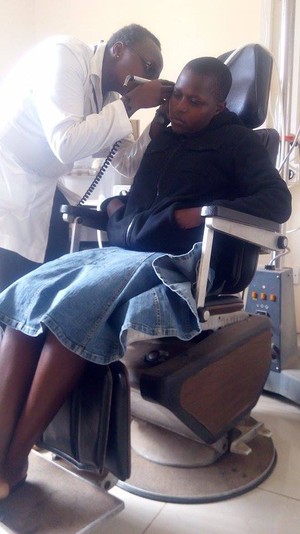 We need your help! If you would like to give to help cover the cost of the surgery, just mark your donation 'Ephy'.
Any size donation will help.
School News
Both our primary and secondary schools are on a semester break.
For the children of New Beginnings that means a chance to do some extra studying or a chance to enjoy some free time. Either way it has been a busy time for the children of New Beginnings.
The children will return in May ready for the second semester for 2017. That will also mean the Music Festivals will begin. We have had several groups already practicing and are hoping to do well in the up and coming competitions.
Keep them in prayer!
Building News
Our new kitchen is being well used already. The staff and children are so grateful for this new facility. Two small projects near the kitchen remain to be finished. A new storeroom for food storage close to the kitchen and in clear sight and a temporary place for the children to eat. There is a small iron sheet dining hall in another area but the children really prefer to eat near the kitchen when the weather is suitable. Who can blame them. The view is beautiful and there is normally a breeze blowing to keep things cool.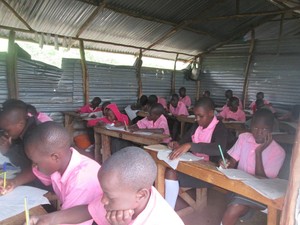 Our current goal for building donations are for the permanent primary classroom we are hoping to complete this year. Our goal is to see at least one but we are really praying for 2 to be built this year. They are in great need. It seems that almost daily we are having snakes invade our dirt floor classrooms. This is very dangerous for the children since many snakes in this part of the world are poisonous. Can you help us reach our goal for at least 1 classroom? Please pray for this need!
| | | | |
| --- | --- | --- | --- |
| Phase IV Projects | Cost | Donated | Still Needed |
| Temporary Kitchen | $3,000 | $3,000 | COMPLETED |
| Vehicle | $20,000 | $0 | $20,000 |
| Classroom | $10,000 | $100 | $9,900 |
| Water Harvesting | $500 | $0 | $500 |
| | | | |
| | | | |
| | | | |
| Total | $33,500 | $3,100 | $30,400 |
Can you help us Build for their Future?
Donate TODAY!
"Now may He who supplies seed to the sower, and bread for food, supply and multiply the seed you have sown and increase the fruits of your righteousness." 2 Corinthians 9:10
Please join us in praying for all the building projects!
Child of the Month
Meet Brian!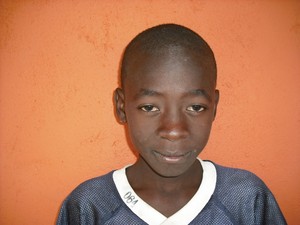 Brian is 11 years old and a total orphan. He and his siblings came to New Beginnings after suffering severe abuse at the hands of his guardians. He suffers from PTSD and is receiving counseling to help him overcome. He is in third grade and an average student. Please pray for Brian to overcome the abuse he suffered and to begin to thrive as a child of God.
Also, pray for Brian to find a partial sponsor. For just $40 a month, YOU could be the answer to his prayers.
Visit our Sponsor a Child page to sponsor Brian.
New Beginnings News
As the children prepare to start the second semester for 2017, we are so blessed that our interns have been working hard this semester break with those who are struggling. What a blessing to have these fine young men who were once in our sponsor program, now working to help those who are younger than them.
We are happy to have a new administrator at New Beginnings. Loice is not exactly new to New Beginnings but has been working as a secondary teacher this past semester. After observing her sacrifice her own evenings to work with and even counsel some of the children, we feel that she is the answer to our prayers. Loice, an orphan herself, was dependent on others to help her get through school. We welcome Loice to our staff.
We also welcome back Mourice to our grounds and maintenance dept. Mourice worked for us in the past and was a hard worker. When a position came open, he inquired about returning to work at New Beginnings. We are always glad to have hard workers return.
Children in Need
Meet Ephy!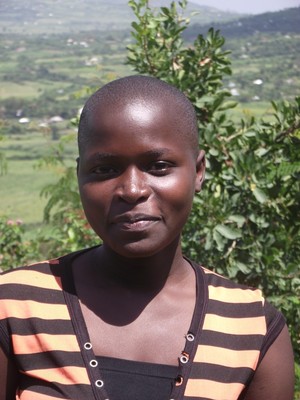 Ephy is a total orphan. She is in 9th grade and in need of special surgery to preserve her hearing. She is in need of a partial sponsor for $40 per month. Could you be the answer to her prayer?
You can sponsor Ephy or another child by sending $40 for partial sponsor or $80 for a full sponsorship per month.
A child is praying...are you the answer?
100% of all sponsor donations go to help the children.
Meet Dave!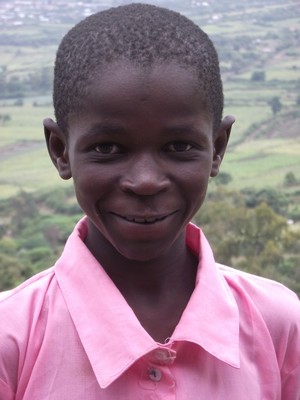 Dave is a partial orphan whose mother struggled to care for him and his sister after their father's death. He is in 8th grade and in need of a partial sponsor for $40 a month. Is God calling you to help Dave?
You can sponsor Dave or another child by sending $40 for partial sponsor or $80 for a full sponsorship per month.
A child is praying...are you the answer?
100% of all sponsor donations go to help the children.
Meet Pamela!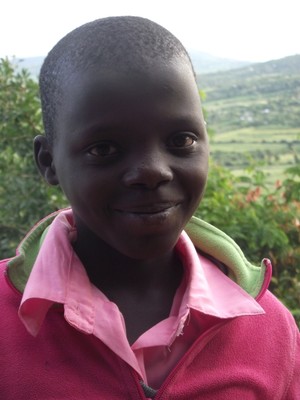 Pamela is a total orphan. She is very bright and in 7th grade. She needs a partial sponsor for $40 per month. Can you help Pamela?
You can sponsor Pamela or another child by sending $40 for partial sponsor or $80 for a full sponsorship per month.
A child is praying...are you the answer?
100% of all sponsor donations go to help the children.
You can BE THE DIFFERENCE in the life of a child!
Shalom Christian Missions is a 501(c)3 non- profit organization,
dedicated to serving children in need throughout the world.
All donations are tax deductible.
Special Thanks to our supporters:
A & R Rental Center - York, PA
Bob Evan's - Mansfield, OH
Cheddar's - Mansfield, OH
Brown Derby Roadhouse - Mansfield, OH
Freedom Wireless - York, PA
Kroger's - Bucyrus, OH
O'Charlie's - Mansfiel, OH
Sleep Inn - Galion, OH
Test Products Inc. - Exton, PA
Ann Downing Ministries - Hendersonville, TN
Christ American Baptist Church Youth - Spring Grove, PA
Christ American Baptist Church - Spring Grove, PA
Crestline UMC Children -Crestline, OH
Crestline UMC - Crestline, OH
Eagle Christian Ministries - York, PA
Elisha's Home and Ministries - Montrose, PA
First Baptist Church - Smithville, TX
First United Church of Christ - Schuykill Haven, PA
Harvest Chapel - Abbottstown, PA
Trinity Lutheran Church - Crestline, OH
Zion Bible Church - York, PA
May God bless you as you pray and give to help the children!
Donations may be made through paypal or you may send your donation to:
Shalom Christian Missions
1255 Mill Creek Rd
York, PA 17404
(717) 586-6945