November 2017 Newsletter
Posted on Nov. 2, 2017
MIRACLES!
Just returned from a blessed trip to New Beginnings. Although it was an intense trip with a smashed windshield upon my arrival from some political demonstrators turned violent along the road, and evidence of the political demonstrations and remnants of tear gas felt during my departure, God was good and His protection was with us the whole time.

"Those who are with us are greater than those who are against us." 2 Kings 6:16

It is hard to watch the violence that is breaking out across Kenya as the election crisis escalates each day. But knowing that our God is in the midst of the troubles and chaos and not absent gives some comfort. We can trust Him to see it through for HIS glory. Please keep this nation in prayer.

It was an honor to spend time with our director counseling each of our 11 students who will finish our sponsor program in December. To hear about what they hope to do in the future and to begin to map out for them how they can go from New Beginnings into the world to become World Changers. Althought the students have not taken their national exams yet, we do expect to see several score high enough to continue on to university and others will go on to various colleges. (In Kenya, whether you will be invited to attend a university or college all depends on how you score.)

Some of the positions these young people aspire to are: lawyer, accountant, 4 nurses, 3 teachers, electrical engineer, and social worker. Please pray for these students as they take their exams and then go into the world.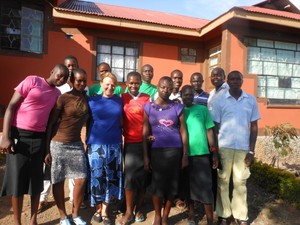 Our 2017 graduating sponsored students.


A special thank you to those who have walked this journey with them by sponsoring them. God has worked through you to see a miracle happen in these children's lives. To read letters that many have written to me (and also to you, their sponsors) is humbling. One shared that "God promised He would not leave us as orphans but would send a helper. YOU are that helper." Another shared "Thank you for making me a somebody." You see, in Kenya an orphan is a nobody and has no future, but because many of you were willing and able to help, these children have now become somebody in their society. You will be remembered for eternity as a hero who has made a difference. You are a World Changer and they want to follow in your footsteps. I praise God for each and everyone of you. I pray that as this students depart, you will consider another child's life as worthy, too. We have so many in great need of a miracle. YOU are an answer to their prayers!
Thanks for being the difference in a child's life.

"When you did it for one of the least of these, you did it to me." Matthew 25:40
Calendar of Events

Saturday, November 11, 2017: Celebration Benefit Dinner in York, PA
6:30 - 8:30 PM
Four Points by Sheraton
1650 Toronita Street
York, PA 17402

Contact us to RSVP by Monday Nov 6, 2017!

Please join us as we celebrate our 10th Anniversary and raise the funds to purchase a much needed used vehicle.

Our goal this year is $20,000 Can you help us reach our goal?

If you cannot attend, please consider a generous donation.
Operation Christmas Shoes
We are now collecting donations towards uniforms, shoes, and socks for each child at New Beginnings
$25 will provide this for one child. Can you help by giving for one or more children?
We will collect through December.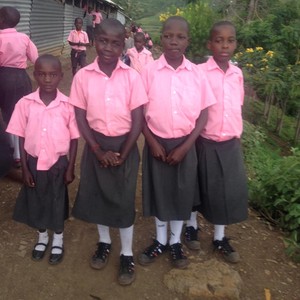 Want to give another Christmas gift to help the children?
Consider donating the gift of a window, door, table, or bench for our new dining hall/all purpose room.

We have relocated our dining hall and made it bigger and more accessible but we still need some things to finish it and make it nicer for the children.
Give them a nice place to eat, study, worship, and fellowship.

Windows (we need 11 at $70 each) total $770
Doors (we need 2 at $60 each) total $120
Tables (we need 10 at $40 each) total $400
Benches (we need 20 at $15 each) total $300
Mark your donation Dining Hall, or donate to our Building Fund!

Schedule Us!!
We have open dates to share about what God is doing on a remote hillside in far off Kenya.
Please contact us to share about the miracles that God is doing.
Prepare to stand in AWE!
Expedition 2018
Our 2018 teams are starting to form.
Now is the time to submit your application and start planning.
Ticket prices are great!

All of our missionaries will enjoy an overnight safari on the world famous Masai Mara.
Our missionaries stay in missionary housing of brick construction on the secure grounds of our children's center in a very beautiful, remote area of Kenya.

Spend time immersed in the culture and lives of those who call New Beginnings Children's Center HOME.
Show the love of Jesus to the community.
Change their lives AND change your life...FOREVER!
Youth groups, families, singles, are all welcome.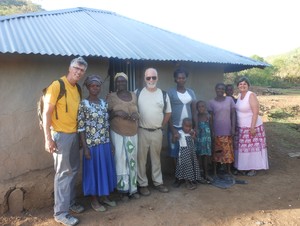 2018 Winter and Summer Trip Applications are now being accepted!
This is the FINAL MONTH to apply for WINTER 2018 trips!

Visit our Missions Page for more information and to download an application.
All dates are tentative until airfare is booked.

Travel as a group OR travel alone and make new friends who will serve with you.
Make plans to bring your whole group!
Discounts for leaders and we do all the training/planning.
Set up the dates NOW while there is plenty of space open.

This is a unique opportunity to experience life in a very remote part of the world. Don't pass it up!
Want to stay longer?
2-6 month internship ($1000 for first month and $500 for each month thereafter.)

Visit the Long-term Mission Opportunities page for more details. Come LIVE in Kenya!
New Beginnings News
The children are excited to see the end of the 2017 school year. This has been a great year in both schools and we have seen a lot of progress being made with our students. We hope to see high scores on both the class 8 national exams AND the final national exams that our 12th grade students will take. Please keep all the students in prayer as they take these exams and keep our children in prayer who will go home to visit guardians and family members during the break.

We are excited for how beautiful New Beginnings is becoming thanks to our wonderful grounds crew and our children who enjoy growing new plants and flowers from seed and cuttings to plant around our compound. It is a great experience for the children to see the fruits of their labor as they help around the compound.

We are excited to welcome Betty to our staff. Betty has been with us for a couple months. She came in as a house parent and quickly moved into the position of head of children's welfare while she is also serving as our administrative assistant. We are grateful for her prior experience working in a children's home and this experience she brings to New Beginnings. She wanted to move away from the Nairobi area and back into her tribal area. She is a blessing to New Beginnings. Please keep Betty in prayer as she serves the Lord at New Beginnings Children's Center.
School News
The end of the school year has finally arrived. We thank God for a successful year and we give Him all the glory.
Primary School
Our primary school will see 20 students sit for their class 8 exams November 1st - 3rd. Of these 20, 12 are sponsored children. They would not be here, but for you.

The sponsored students are: Emmanuel, Irene Awuor, Sharon Akinyi, Newton, Kevin Ochieng, Tyson, Dave Okoth, Ian, Peter Disi, Kevin Odhiambo, Angeline Auma, and Daniel
Please keep them in prayer.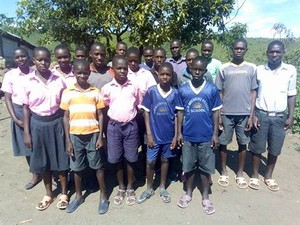 Secondary News
Our secondary school will see 22 students sit for their final national exams Nov 6th-28th. Of these 22 students, 11 are sponsored.

The boys are: Geoffrey, Evance, Roney, Brighton, and Vincent. The girls are: Sharon, Neema, Sharon, Elector, Jescar, and Lydia.

A special celebration was held in October for these students.
Please keep them in your prayers.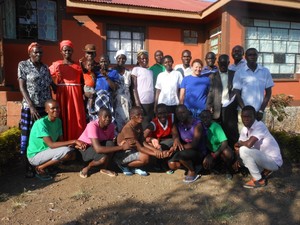 Our graduates with some of their guardians.
Building News
Our third brick classroom is finished. We are so grateful and blessed by everyone who gave to make this possible. It is wonderful to see the students using the classroom already.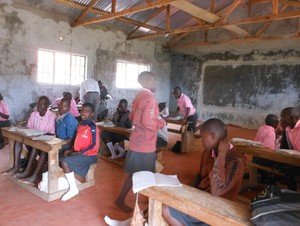 Our third brick primary classroom is now in use.
Thanks to those who gave to make this possible.
Our next building challenge will be to build our new Early Childhood Development section. We hope to move the preschool and kindergarten classes to a new area on the compound. This new section will then be fenced to keep the children separated from the older school students. This will give these young learners a much safer environment for them to learn and grow.

The new ECD section will be close to our gate, so they don't have to walk as far. It will include 3 classrooms, an office, playground, and a child size latrine for the smaller children. Please join us in seeing this section completed for these little ones.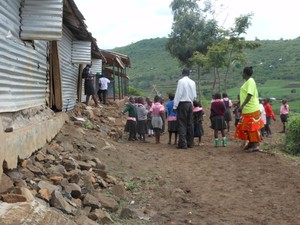 The current ECD (Early Child Development) classrooms urgently need to be replaced
Our goal to get a new/used vehicle is a great need. and we have placed it as part of our building plans because this vehicle is essential in the building of New Beginnings. This vehicle will be used in the transportation of basic food and supplies (including building supplies) for New Beginnings. It will also be used to transport children and missionaries.

We are not looking for a new vehicle(only new to New Beginnings). We are really in need of an older model Land Rover/Land Cruiser with an extended body, that we think will be able to handle the rough terrain in our area. We are hoping that the projected cost will cover any needed repairs, insurance, etc. Please consider a donation to help us with this great need.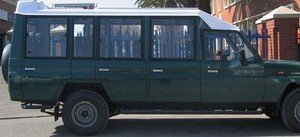 Please join us in praying for a new vehicle.
| | | | |
| --- | --- | --- | --- |
| 2018 Goals | Cost | Donated | Still Needed |
| Vehicle | $20,000 | $0 | $20,000 |
| ECD Classroom Section | $20,000 | $0 | $20,000 |
| Green House/Water Harvesting | $5,000 | $0 | $5,000 |
| | | | |
| | | | |
| | | | |
| | | | |
| Total | $45,000 | $0 | $45,000 |

This is a BIG goal and we can't do it without ALL of you!

Can you help us Build for their Future?
Donate TODAY!

"Now may He who supplies seed to the sower, and bread for food, supply and multiply the seed you have sown and increase the fruits of your righteousness." 2 Corinthians 9:10

Please join us in praying for all the building projects!
Child of the Month
Meet Velma!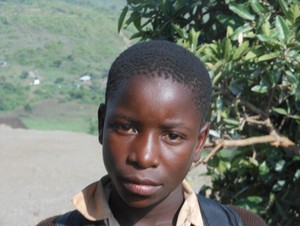 Velma does not currently live at New Beginnings. She awaits a sponsor.

She is the sister to one of our children named Kevin. Her mother has been crippled since birth and unable to walk or do much of anything. She must be carried everywhere. Velma was sent to live with an aunt to care for her, since her mother (who lives with her grandmother) was unable to care for her.

Recently Velma was sent back to her mother when her aunt stated she could no longer afford to feed her. The mother came to us begging to take her so that she will not starve. We accepted her at our school and approved feeding her both porridge and lunch with our children. Now that school is out, Velma must go back to her mother and grandmother to live. They will now struggle to care for her.

Velma is 14 and just finished 6th grade. She is an average student.
Velma is asking for prayer to find a sponsor to help her.
Could YOU be the answer to Velma's prayers?
College/University Scholarship Program
Our 3 students who are our scholarship recipients for 2017 are all currently in school.
Please consider a donation to our Scholarship Recipients so that we can continue to keep them in school.
These students never dreamed they could go on to college/university, but God has made a way.
Give them an amazing future.

This year's recipients are:
Brighton, Stephen, and David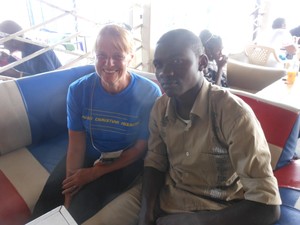 Visiting Stephen at school and having dinner together.
Stephen is attending college to become a Social Worker.


Children in Need
Meet Tom!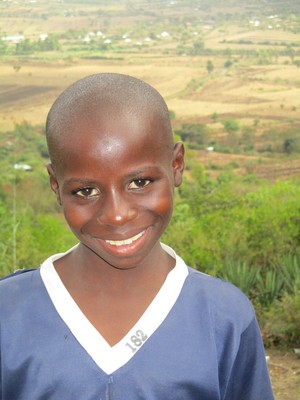 Tom is 11 years old and a total orphan. He has lost his sponsor and needs a new one. Could YOU be the answer to his prayers?
You can sponsor Tom or another child for $40 for partial sponsor or $80 for a full sponsorship per month.

A child is praying...are you the answer?
100% of all sponsor donations go to help the children.
Meet Cynthia!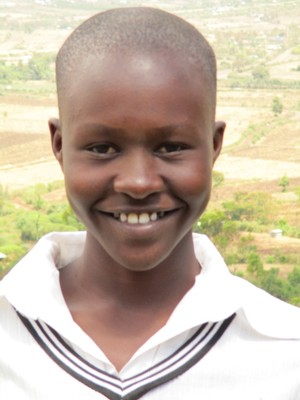 Cynthia is 13 years old. Since her father's death, her mother has been unable to provide for the basic needs for Cynthia. She has lost her sponsor and needs a new sponsor. Is God calling you to help Cynthia?

You can sponsor Cynthia or another child for $40 for partial sponsor or $80 for a full sponsorship per month.

A child is praying...are you the answer?
100% of all sponsor donations go to help the children.
Meet Brian!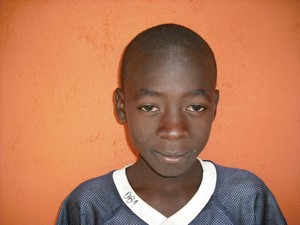 Brian is 13 and a total orphan. He is in class 6 and hopes to continue in school through high school He is in need of a partial sponsor to do this. Can you help Brian?

You can sponsor Brian or another child for $40 for partial sponsor or $80 for a full sponsorship per month.

A child is praying...are you the answer?
100% of all sponsor donations go to help the children.

If you would like to sponsor a child, you can do so on our Sponsor a Child page.
You can BE THE DIFFERENCE in the life of a child!

Shalom Christian Missions is a 501(c)3 non- profit organization,
dedicated to serving children in need throughout the world.
All donations are tax deductible.
Special Thanks to our Supporters:
A & R Rental Center - York, PA
Bob Evan's - Mansfield, OH
Cheddar's - Mansfield, OH
Brown Derby Roadhouse - Mansfield, OH
Freedom Wireless - York, PA
Kroger's - Bucyrus, OH
O'Charlie's - Mansfield, OH
Sleep Inn - Galion, OH
Test Products Inc. - Exton, PA
Ann Downing Ministries - Hendersonville, TN
Christ American Baptist Church Youth - Spring Grove, PA
Christ American Baptist Church - Spring Grove, PA
Crestline UMC Children - Crestline, OH
Crestline UMC - Crestline, OH
Eagle Christian Ministries - York, PA
Elisha's Home and Ministries - Montrose, PA
First Baptist Church - Smithville, TX
First Evangelical Lutheran Church Youth - Chambersburg, PA
First United Church of Christ - Schuykill Haven, PA
Harvest Chapel - Abbottstown, PA
Harvest Chapel Children's Ministry - Abbottstown, PA
Trinity Lutheran Church - Crestline, OH
Zion Bible Church - York, PA

May God bless you as you pray and give to help the children!
Donations may be made through paypal or you may send your donation to:

Shalom Christian Missions
1255 Mill Creek Rd
York, PA 17404
(717) 586-6945