March 2018 Newsletter
Posted on March 20, 2018
A Season of HOPE!
WOW! It's already March.

Winter has passed and spring is almost here. Spring seems to be a season of hope. A time when things become new again. A time for New Beginnings.

Here on the hill in Kenya a new season is coming. There have been two years of drought, and famine is felt by most of the farming community. In the valley I see more farmers plowing their fields early in the morning. We have been having rain almost daily and they have renewed hope that this season of planting will yield a good harvest.

At New Beginnings we also feel the increase of hope. Change is inevitable and will come. We have felt the impact of change in the last couple months. New demands from the children's office to improve our children's home. New demands from the education office to improve our schools. While all these changes seem like a burden in expenses, we do recognize that they are also needed for the betterment of the children and education in all of Kenya. We at New Beginnings want to embrace the changes for the good things they will bring BUT we also know it will take many people to help us reach the goals that have been placed before us for this new season.

To meet the qualifications for the children's office we are required to hire a few more staff. The money for our staff comes from the sponsored children. 100% of our sponsored children's donations go to help the children and this includes having a quality staff that meets the demands of the government of Kenya, and cares for the needs of the children.

Currently we still have 37 children (out of 125 children) under the care of New Beginnings who are not fully sponsored. The number is declining but we do need your help in getting the word out to your friends. We are literally seeing lives changed in our program. Those finishing are going on to universities, colleges, and finding jobs. They are able to become valuable citizens of Kenya. If not for New Beginnings, most of these orphans and vulnerable children would have been on the streets or even sold into early marriages or child trafficking. Now these once vulnerable children will face the future with hope to succeed in life and with the knowledge of who they are in Christ.

Please help us meet the need by hosting a small group dinner in your home to share about what God is doing at New Beginnings. We will help you do everything AND you will receive a special gift from Kenya just for hosting. Contact us for more information and to set a date. By getting all our children fully sponsored, we should easily make the required changes that the government has placed upon us. But it is not for them, it is for the children. To make it better for them and to glorify the Lord in what we are doing for them.

The second change is to our schools. It is time for us to seek permanent registration for both our primary and secondary schools. In doing so we cannot have any iron sheet buildings. Many of our primary classrooms are iron sheets. We see the need to change, as iron sheet classrooms can be dangerous for the children. Plus, they make teaching very difficult as teachers try to shout over each other to be heard by their students from one classroom to the next. We have come up with a plan to meet the government requirements for our schools. It will require 1 additional classroom be built, a science laboratory, and 3 classrooms being renovated to completion. This will require about $25,000 to make it happen. (Complete breakdown of costs under Project Development News.)

Without our schools, the children will have no other option but to attend the public government schools. Those classes have about 100 students per classroom and often the teachers arrive late and leave early. Although they are to be free to the children, the teachers demand bundles of firewood and other things from the children on a regular basis. Not to mention exposing our previously abused children to face further abuse out of our care.

Within our school we have found the children flourish and our primary school has become known for providing a good base for children to do well in secondary school. Our secondary school was ranked #10 out of 34 schools in the area according to their scores. Thus making our secondary school a good affordable option for many in our area.

Since this is now a priority, our need for the vehicle must wait. (If you have donated to that fund, it will be kept on hold until our school needs are met.) Please consider a one time or monthly gift to help us meet the requirements for our Christian Schools for the children of the area. YOU will be changing the lives of a community!

As the farmers plant with renewed hope for the future, we also continue to plant the seed of renewed hope for the future of New Beginnings. May God also give you a renewed zeal for what you are doing as you support the children of this remote part of the world.
YOU ARE MAKING A DIFFERENCE!!

May God bless you as you give to HIM in this way.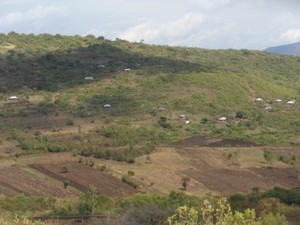 Calendar of Events
Saturday April 21, 2018: Benefit Dinner in Ohio
Friday May 18 - Sunday May 20: Middle Tennessee Women's Retreat in Nashville, TN
July/August 2018: Mission Teams to New Beginnings in Kenya, accepting applications
January/February 2019: Mission Teams to New Beginnings in Kenya

Schedule Us!!
Please consider hosting a small group dinner in your home to share about what God is doing in far off Kenya. We will provide everything and you will receive a special gift from Kenya for hosting. All you need to do is invite 6-10 friends to join you to hear about the miracles.
Say "I WILL" and schedule us TODAY!
Call us at (717) 586-6945!
GIVING!
We continue to collect undergarments of all sizes.
We have a particular need for:
bras, slips, and pajamas of all sizes.

We are also collecting gently used and new sneakers and soccer shoes.
Children through adult sizes needed.

Donations can be sent to our headquarters in York, PA.
Mission Expedition 2018
We still have a little space on our July Team.
Now is the time to submit your application and start planning.
All of our missionaries will enjoy an overnight safari on the world famous Masai Mara. Our July/August teams will experience the migration season.

Our missionaries stay in missionary housing of brick construction on the secure grounds of our children's center in a very beautiful, remote part of Kenya.

Spend time immersed in the culture and lives of those who call New Beginnings Children's Center HOME.

Show the love of Jesus to the community through home visits in their modest mud houses.
Change their lives AND change your life...FOREVER!
Youth groups, families, singles, are all welcome.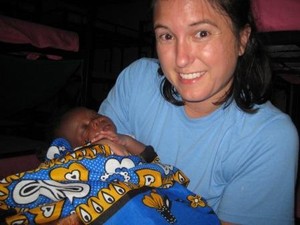 How much does it cost? When is the trip? How do I apply?
Visit our Missions Page for trip dates, prices, and to download an application.

Travel as a group OR travel alone and make new friends who will serve with you.
Make plans to bring your whole group!
Discounts for leaders and we do all the training/planning.
Set up the dates NOW while there is plenty of space open.

All dates are tentative until airfare is booked.

This is a unique opportunity to experience life in a very remote part of the world.
Don't pass it up!
Applications are being accepted for 2018/2019!!
Want to stay longer?
2-6 month internship ($1000 for first month and $500 for each month thereafter)

Long-term mission opportunities available. Come LIVE in Kenya!
Visit our Long-term Mission Opportunities page for details!
New Beginnings News
This past month another case came to us through the courts. An 11 year old boy named Gravin. Gravin was found wondering around the streets of one of the small towns. He was taken by the police to try to find out where he was from. The answer he gave them is that his mother was deceased and his father and step-mother had abandoned him. After a week of sitting in a jail cell, his case was sent to court.

The court decreed him and abandonment case and sent him to us at New Beginnings. After arriving here Gravin began to cry that he wanted to find his father. He tried to run away to find him. We agreed that to help the child adjust we would take him to his home area, where he could let the neighboring community know where Gravin was now living in case his father returned. As we arrived in his home area (about an hour away) you can imagine our surprise to learn that Gravin's story was not the truth. In fact it was Gravin who had run away from home. His father had been searching for him for over a month. He even contacted the police and put out posters of the missing boy. Seems Gravin doesn't like school and ran away from home before school started in January.

This case was a happy ending and we pray that Gravin will remain at home and realize the value of an education. The courts reversed the order for Gravin to live at New Beginnings in light of our discovery.

We continue to work to serve the needs, this year, of more than 125 children.
School News
Our schools are off to a good start in 2018.
Please keep the students and all staff in prayer as they learn and teach.
Primary News
Our primary school is moving forward. We have gained the reputation for a primary school that gives its students a good foundation for their lives. Our teachers are working hard to see all the students in their care, receive the best possible education.
Please pray for them and their students.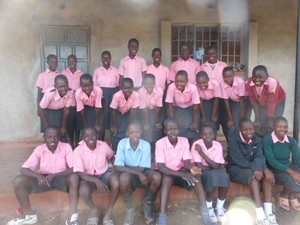 Our class 8 candidates for 2018
Secondary News
Secondary school is moving forward. With some changes in the government support of the public schools, we have seen a slight drop in enrollment, but we know we are providing a quality education for our children and those in the community, who cannot afford to go to the still expensive government school.Please pray for our staff and students.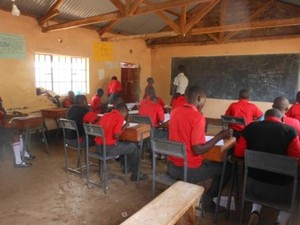 Project Development News
Because of the new government demands on our schools, we have found we must postpone our vehicle fundraising for the time being. If you have given towards the purchase of the vehicle, we will save that for a later date after these schools needs are met.
The government is requiring that we replace all our iron sheet structures in order to permanently register our schools. Therefore we must move forward on our classroom building NOW. We need your help to get our brick classrooms, that are required, built. Please donate if possible to help us keep our schools going.


Building for their future!


Primary and Secondary School Goals
Total Donated Balance needed
Full Classroom $5,000 $1000 $4,000

Science Laboratory $11,000 0 $11,000

Renovation of 3 classrooms $9,000 0 $9,000
$25,000 $1000 $24,000

Can you help develop their Future?
Donate to the Building Fund to help us build these rooms!

Now may He who supplies seed to the sower, and bread for food, supply and multiply the seed you have sown and increase the fruits of your righteousness. 2 Corinthians 9:10

Please join us in praying for finances for all the developmental projects!
Child of the Month
Meet Kevin!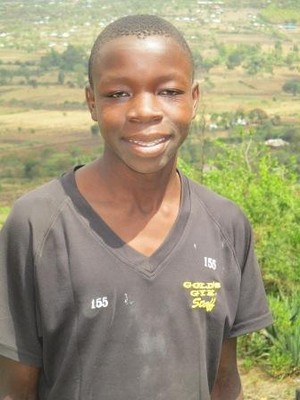 Kevin is 17 years old and in 10th grade. Kevin is an AIDS orphan. Before coming to live at New Beginnings he and his 4 siblings lived with their elderly grandmother. She struggled greatly to provide for them.

In the past Kevin dreamed of attending secondary school; now it has become a reality. He is an average student and he likes science. He hopes that one day he can go into the medical field. Kevin has lived at New Beginnings for 4 years. Recently he lost his sponsor. Kevin is asking for prayers to find a full sponsor so that he can remain at New Beginnings so that he will have a chance in life.
College/University Scholarship Program
Currently we have 7 students in our scholarship program.

Brighton, Stephen, and David are currently in university and colleges and were our interns in 2017. Brighton is studying Industrial Chemistry, Stephen is completing a course in Social Science, and David is working towards his certificate in early childhood education.

Jescar, Sharon, Geoffrey, and Vincent are our current interns at New Beginnings through the scholarship fund. Our interns spend 9 months to a year after secondary school serving at New Beginnings. Some assist in our primary school and some in our secondary school. All are on duty in the evening to help the younger children study. They receive a small income while living on campus. They learn to have good job ethics, to be servant leaders, and to spend and save for their futures. It is an intense program and not everyone accepted will last until the end. It is a great way to insure that we have good scholarship recipients when they leave New Beginnings.
Please keep them in prayer.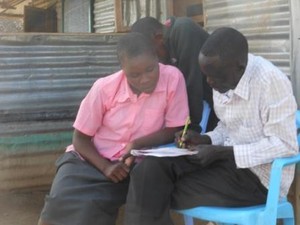 These students never dreamed they could go on to college/university, but God has made a way.
Donate to our scholarship fund to help give them an amazing future.
Children in Need
Currently we have several children living at New Beginnings who have lost their sponsors or are not fully sponsored. To remain in our program, we need your help to find them sponsors.
Please share this great need with your family and friends.
Meet Stracy!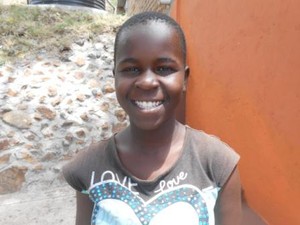 Stracy is 12 years old. She was born to an inherited father who has abandoned her. Her mother has struggled greatly to provide for her family. Stracy needs a partial sponsor. Can you help Stracy?

You can sponsor Stracy or another child for $40/month as a partial sponsor or $80/month as a full sponsor.

A child is praying...are you the answer?
Visit our Sponsor a Child page to become a sponsor to a child in need.
Meet Everest!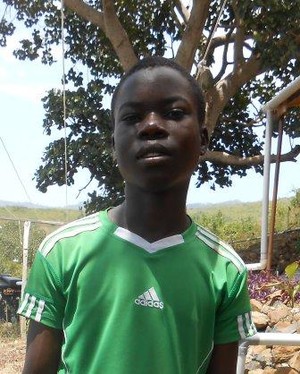 Everest is 15 years old. He is an AIDS orphan. He is praying for a future. He needs a partial sponsor to remain at New Beginnings. Are you the answer to his prayers?

You can sponsor Everest or another child for $40/month as a partial sponsor or $80/month as a full sponsor.

A child is praying...are you the answer?
Visit our Sponsor a Child page to become a sponsor to a child in need.
Meet Sharon!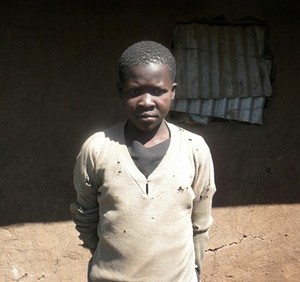 Sharon is 13. She is an AIDS orphan. Sharon lives with her uncle and his 9 children. He cannot afford to feed one more child. She needs a partial sponsor. Is God calling you to help Sharon?

You can sponsor Sharon or another child for $40/month as a partial sponsor or $80/month as a full sponsor.

A child is praying...are you the answer?
Visit our Sponsor a Child page to become a sponsor to a child in need.

You can sponsor a child by making a monthly Paypal donation or send a personal check to our address at:

Shalom Christian Missions
1255 Mill Creek Rd
York, PA 17404

You can BE THE DIFFERENCE in the life of a child!

Shalom Christian Missions is a 501(c)3 non- profit organization,
dedicated to serving children in need throughout the world.
All donations are tax deductible.
Special Thanks to our supporters:
A & R Rental Center - York, PA
Bob Evan's - Mansfield, OH
Cheddar's - Mansfield, OH
Brown Derby Roadhouse - Mansfield, OH
Freedom Wireless - York, PA
Kroger's - Bucyrus, OH
O'Charlie's - Mansfield, OH
Sleep Inn - Galion, OH
Ann Downing Ministries - Hendersonville, TN
Christ American Baptist Church Youth - Spring Grove, PA
Christ American Baptist Church - Spring Grove, PA
Crestline UMC Children - Crestline, OH
Crestline UMC - Crestline, OH
Eagle Christian Ministries - York, PA
Elisha's Home and Ministries - Montrose, PA
First Baptist Church - Smithville, TX
First Evangelical Lutheran Church Youth - Chambersburg, PA
Harvest Chapel - Abbottstown, PA
Harvest Chapel Children's Ministry - Abbottstown, PA
Trinity Lutheran Church - Crestline, OH
Zion Bible Church - York, PA
We would like to add your business or ministry to our list!

May God bless you as you pray and give to help the children!
Donations may be made through Paypal or you may send your donation to:

Shalom Christian Missions
1255 Mill Creek Rd
York, PA 17404
(717)586-6945