August 2018 Newsletter
Posted on Sept. 6, 2018
Walk In Love!
The summer team has come and gone to New Beginnings. What a blessing they have been to the children and the community. After holding Bible School for the primary students during the day and teaching lots of songs and the Word, the team continued in the evening to hold Bible studies with our teens.

One day the team went to visit some widows from the community. Visiting the poorest of the poor is always a humbling experience. This team, like others before them, were led to the home of a crippled woman to bring some gifts and to pray for her healing. God touched the team's heart to want to help this woman, who crawls on her hands and knees to go anywhere. They gave some money and we arranged to get some crutches for her.

Unfortunately, the woman's legs and arms are too weak from the result of polio some years back that the crutches will not help. When the team left, we went to visit her home to try the crutches with her and found even more devastation.

The crippled woman, named Jacklyn, lives with her brother and sister-in-law. We found that the sister-in-law, who is the caregiver of the family, was extremely ill and in need of hospital care. We found five children under her care who were malnourished and in great need of help.

Since that day, we managed to get the woman to the hospital where they found a growth in her stomach. After two days of care, she has been sent home with medication.

We have taken in two of the children under her care and a third remains at home in hopes that we can bring him soon. Jacklyn is in need of a wheelchair and this has already been covered by a compassionate donor. We will pick up a wheelchair on our next trip to Nairobi.

If anyone has a heart to help sponsor any of these three children, they are still in great need. For just $40 a month, you can make a difference in their lives FOREVER!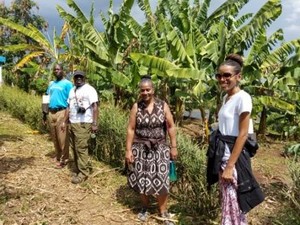 "..walk in the way of love."
It is always amazing what God will do when a team comes with a heart to serve. This family lives just below New Beginnings but we have never heard of their need. After stepping in to help, some of our staff have commented that what we did is a very good thing because this family has really been suffering. The team saw a crippled woman in need of God's healing and what God really showed us was a whole family in need of His touch.

To God be the glory for all that He has done and continues to do. I always stand in awe of His mercy and grace. When we surrender our will to His, He can do above and beyond anything that we can ever imagine.

Join a team in January or July and become part of the miracle at New Beginnings.

"Follow God's example, therefore, as dearly loved children and walk in the way of love, just as Christ loved us and gave himself up for us as a fragrant offering and sacrifice to God." Ephesians 5:1-2
Calendar of Events
January/February Mission Teams to New Beginnings in Kenya Now Accepting apps.
Pray for those considering going in 2019.
We can't do it without YOU!!

Small Group Dinners: Please consider hosting a small group dinner in your home to share about what God is doing in far off Kenya. We will provide everything and you will receive a special gift from Kenya for hosting. All you need to do is invite 6-10 friends to join you to hear about the miracles. Help us help them!! Say I WILL and schedule us TODAY!!
Call (717) 586-6945 and ask to schedule a dinner!
Giving!
We will continue to collect undergarments of all sizes.
We have a particular need for bras, slips, and pajamas of all sizes.
We are also collecting gently used and new sneakers and soccer shoes.
Children through adult sizes needed.

Children's Bible Lessons
If you or your church have any old VBS or Church School lesson books that you would be willing to donate, they would be greatly accepted and appreciated.
Mission Expedition 2019
Now is the time to submit your application and start planning for 2019 January and July.
Our missionaries enjoy an overnight safari on the world famous Masai Mara.
July/August teams, often experience the migration season.
Our missionaries stay in missionary housing of brick construction on the secure grounds of our children's center in a very beautiful, remote part of Kenya. Spend time immersed in the culture and lives of those who call New Beginnings Children's Center HOME.
Show the love of Jesus to the community through home visits to their modest mud houses while taking supplies to the poorest widows.
Change their lives AND change your life...FOREVER!
Youth groups, families, singles, are all welcome.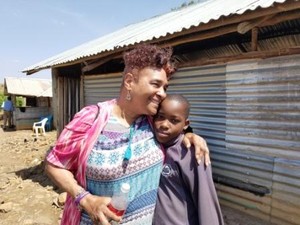 Applications are being accepted for our Winter 2019 trips! Visit the Missions Page for trip details and to download an application!
Travel as a group OR travel alone and make new friends who will serve with you.
Discounts for leaders (of groups of 10 or more) and we do all the training/planning. Make plans to bring your whole group. Set up the dates NOW while there is plenty of space open.
All Dates Are Tentative Until Air Tickets Are Purchased!
Want to stay longer?
2-6 month internship ($1000 for first month and $500 for each month thereafter)

Our intern program at New Beginnings Children's Center is growing and changing.
Come and be immersed in the culture and lifestyle of this remote area as you live within the secure grounds of our children's center.

Your personal faith will grow as you attend the weekly Bible studies and team up with our Kenyan interns to hold Bible studies for the children. You will be assigned various jobs around the center as well as serve as a tutor for children. This is a chance to serve and live in a foreign culture within the safety of our children's center.

Is God calling you to journey with Him to this remote part of Africa and experience His world? Click here for more details, fill out an application, and get ready to serve. Internships run from 2 months to 6 months.

*Must be over 18 years of age to apply.

Long term mission opportunities available.
Come LIVE in Kenya!
Contact our office for details!
New Beginnings News
It was with great sorrow that we learned about a death in one of our New Beginnings families. One of our grounds crew had to say goodbye to his beloved wife. After several months of illness and thoughts that she was finally getting well, she took a sudden turn for the worse and passed on.

It was our honor, as part of the New Beginnings family, to stand by him and mourn with him at her passing. We have also assisted him by providing a new home for his daughters who, left without a mother, are very vulnerable, especially when he is away from home working. We welcome Dorothy who is in 9th grade and Beryl who is 4 years old and in our preschool. Both are in need of sponsors. Please pray for this family as they adjust to the changes that have taken place in their lives.

We welcome Moureen and Jane to our Children's welfare staff. Moureen will serve as our social worker and Jane will serve as a house parent.

It was a blessing to have our college and university students with us the past couple weeks. Our interns will head off to their colleges and universities at the end of the month. Our college and university students will remain on break until Oct, when they will return to finish out their first year. These students are a great blessing to us as they serve as tutors for the younger children and assist the staff at New Beginnings.

Please pray for all those serving at New Beginnings. Pray for hard workers who will not become corrupted. Pray for hearts to truly care for the children of New Beginnings.
School News
So great to see our primary and secondary schools very active and busy this time of year.
Primary School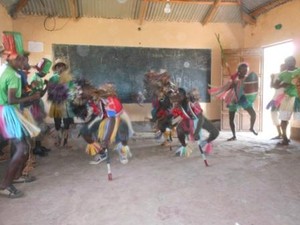 The primary school sent several teams to the County Music Festival last month. All performed very well but did not place high enough to go further in their competition. Also, several of our primary students, mostly girls, performed very well in the County Soccer Games. We are so thrilled to see the talents that God has given these children. May they all be used for His glory.

All the extracurricular activities are over, and our students are back working hard with all their subjects. Time to learn and grow. Please continue to pray for our children to learn.
Secondary School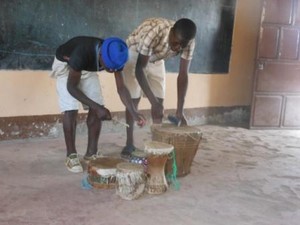 Our secondary students also had 14 students competing in various categories of the County Music Festival. They also did a good job but did not place high enough to go further in the competition. We are very excited by their talents as well as their knowledge. Please continue your prayers for these students as they continue working hard to succeed in life.
Project Development News
Progress continues to be made on our 4th classroom. The roof is on and the finish coat is being done. The classroom should be ready for use as the students return from their semester break the beginning of September. Please pray for the money for our building needs to be met. We are under a deadline to have our classrooms all in brick before January. We cannot do it without your prayer and financial support. Please help us with our schools.
Building for their future!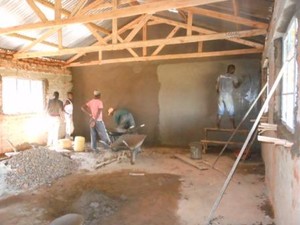 Primary and Secondary School Goals
Total Donated Balance needed
Fourth Classroom $5,000 $5,000 $0

Science Laboratory $11,000 0 $11,000

Renovate 3 classrooms $9,000 $200 $8,800
$25,000 $5,200 $19,900

Can you help build for their Future?
Donate to our Building Fund TODAY!

"Now may He who supplies seed to the sower, and bread for food, supply and multiply the seed you have sown and increase the fruits of your righteousness. 2 Corinthians 9:10
Please join us in praying for finances for all these projects!
Child of the Month
Meet John Junior!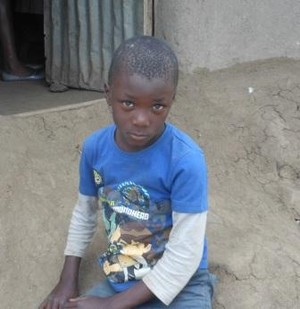 John Junior is 5 years old. His father is deceased and his mother has left him with a grandmother to seek work in the city. He has become a victim of child labor and neglect by his grandmother. His mother is begging for someone to help Junior and his sister Brigid. Please pray for these two children.

For just $40 a month you can make a difference in his life.
College/University Scholarship Program
Currently we have five students in our scholarship program.

This year's Scholarship recipients are:
Brighton and Stephen (who are currently in university and colleges and were our interns in 2017)

Brighton is studying Industrial Chemistry and Stephen is completing a course in Social Science.

This year's 2018 Interns:
Jescar, Geoffrey, and Vincent (who are our current interns at New Beginnings through the scholarship fund) Our interns spend 9 months to a year after secondary school serving at New Beginnings. Some assist in our primary school, some in our secondary school, some in our office, and some in other areas of service at New Beginnings. Their main job is to help our younger children during study times in the mornings and evenings.

They receive a small income while living on campus. They learn to have good job ethics, to be servant leaders, and to spend and save for their futures. It is an intense program and not everyone accepted will last until the end. It is a great way to ensure that we have good scholarship recipients going on to universities and colleges when they leave New Beginnings.
Please keep them in prayer.

These students never dreamed they could go on to college/university, but God has made a way.
Donate to our College/University Scholarship fund to help give them an amazing future.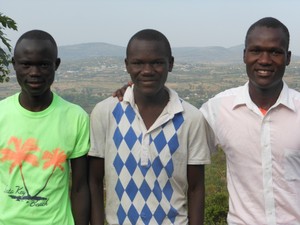 Scholarship Recipients:
L-R Vincent 2018, Brighton 2017, Geoffrey 2018

Just a few of those whom scholarships have helped further their educations.
Thanks for giving and making a difference.
Children in Need
Currently we have several children living at New Beginnings who have lost their sponsors or are not fully sponsored. To remain in our program, we need your help to find them sponsors. Please share this great need with your family and friends.
Meet Gaye!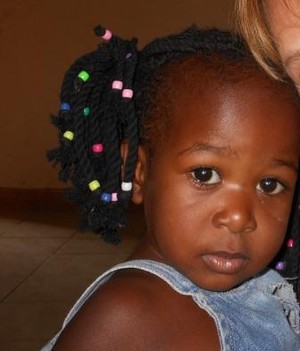 Gaye is 2 years old and the daughter to one of single moms. Her mother will finish our program this December and Gaye will remain in our care until her mother feels she is able to care for her on her own. Gaye needs a sponsor.

Contact us to sponsor Gaye or another child for $40/month for partial
sponsor or $80/month for a full sponsorship.
A child is praying...are you the answer?

100% of all sponsor donations go to help the children.
Meet Kevin!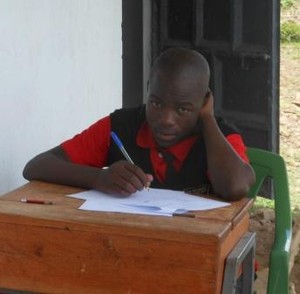 Kevin is in 9th grade. He mother is severely crippled from polio and his father is deceased. He has lost his sponsor and is in need to remain in our program.

You can sponsor Kevin or another child for $40 for partial sponsor or $80 for a full sponsorship per month.

A child is praying...are you the answer?
100% of all sponsor donations go to help the children.
Meet Cynthia!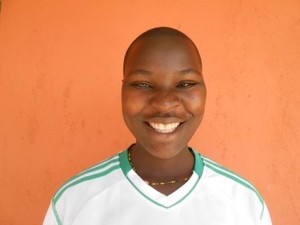 Cynthia is a total orphan. She is in 8th grade. She is in need of a partial sponsor at $40/month. Can you help?

Contact us to sponsor Cynthia or another child for $40 for partial sponsor or $80 for a full sponsorship per month.
A child is praying...are you the answer?
100% of all sponsor donations go to help the children.


If you would like to sponsor a child, you can do so through our Sponsorship Page (using Paypal)
or send a personal check to our address.

You can BE THE DIFFERENCE in the life of a child!
Shalom Christian Missions is a 501(c)3 non- profit organization dedicated to serving children in need throughout the world.
All donations are tax deductible.
Special Thanks to our Supporters:
A & R Rental Center - York, PA
Freedom Wireless - York, PA
Ann Downing Ministries - Hendersonville, TN
Christ American Baptist Church Youth - Spring Grove, PA
Christ American Baptist Church - Spring Grove, PA
Crestline UMC Children - Crestline, OH
Crestline UMC - Crestline, OH
Eagle Christian Ministries - York, PA
Elisha's Home and Ministries - Montrose, PA
First Baptist Church - Smithville, TX
First Evangelical Lutheran Church Youth - Chambersburg, PA
First United Church of Christ - Schuykill Haven, PA
Harvest Chapel - Abbottstown, PA
Harvest Chapel Children's Ministry - Abbottstown, PA
Mansfield Christian School - Mansfield, OH
Trinity Lutheran Church - Crestline, OH
Zion Bible Church - York, PA

We would like to add your business or ministry to our list!

Contact us TODAY!

May God bless you as you pray and give to help the children!
Donations may be made through Paypal
or you may send your donation to:
Shalom Christian Missions
1255 Mill Creek Rd
York, PA 17404
(717)586-6945