October 2018 Newsletter
Posted on Oct. 30, 2018
To Everything There is a Season
The beauty of God's world always amazes me.

In Kenya the season has changed and it is now a time for growing. In America the season has changed and it is now a time for harvest. So amazing to see how all this takes place under the watchful eye of our God who created it all and put it all into motion. He knows every hair on our heads and every rain drop that falls to earth.

During this time of changing season, we at New Beginnings/Shalom Christian Missions also celebrate a change that is soon to take place. This year we will have 8 children finish our sponsor program at New Beginnings. I have spent some time counseling each of these young people as part of our preparation for them to go forward. They all look forward to the change although most are also very nervous. Some have guardians who will help them as they find jobs and move forward, while others are feeling unsure in not having anyone who will truly help them during this transition. We view all as our children, and assure those who are nervous that we will be there to help them take the needed steps to move on. We remind them that with every sunset God gives the promise of a new dawn.

We celebrate these graduates for 2018:
Timothy--Has been with us since 2012. He is an A student and has his sights set on going to university to study medicine. Please pray for Timothy.
Fina Dona--Has been with us since 2010. She is also a good student and hopes to go on to university to become a land surveyor. Pray for Fina Dona.
Neema--Has been with us since 2017. Neema has been given a second chance at her national exam and is praying to be able to go to university to study nursing. She is the first in her family to finish high school. Keep Neema in your prayers.
Jane--Has been with us since 2011. She also hopes to go onto university to study nursing. She is also the first in her family to finish high school. Please pray for Jane.
Nelly--Has been with us since 2011. Nelly hopes to go on to study nursing or teaching. Keep Nelly in your prayers.
Susan--Susan has been with us since 2008. She has been attending vocational school and already has a job offer waiting for her when she finishes her final exams. She has studied catering. Pray for Susan.
Norah--Has been with us since 2015. Norah has also been attending vocational school and has been offered a job when she finishes her exams in Dec. She has studied catering. Please pray for Norah.
Lavender--Has been with us since 2014. Lavender has been attending vocational school and is very hopeful of finding a job and has several good leads. Lavender has been studying dress making. Pray for Lavender.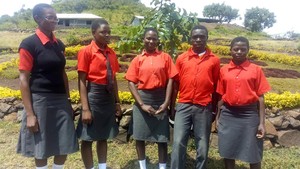 Neema, Fina Dona, Jane, Timothy, and Nelly (l-r)
New Beginnings High School graduates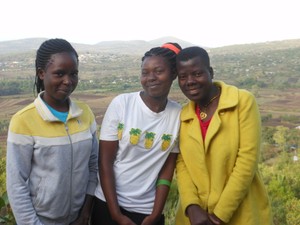 Norah, Lavender, and Susan (l-r)
Vocational School graduates
New Beginnings has had an amazing impact on each of their lives. They have all told me that they hope at some point in their lives to be able to help another child through New Beginnings.

YOU, the sponsors of these children, have made a difference between hope and hopelessness.

YOU have given them choices they never dreamed they would have.

Thanks for giving to the Lord in this special way!
"To every thing there is a season, and a time to every purpose under the heaven." Ecclesiastes 3:1
Mission Expedition 2019
Now is the time to submit your application and start planning for 2019 January and July.
Our missionaries enjoy an overnight safari on the world famous Masai Mara.
July/August teams, often experience the migration season.

Our missionaries stay in missionary housing of brick construction on the secure grounds of our children's center in a very beautiful, remote part of Kenya. Spend time immersed in the culture and lives of those who call New Beginnings Children's Center HOME.

Show the love of Jesus to the community through home visits to their modest mud houses while taking supplies to the poorest widows.
Change their lives AND change your life...FOREVER!
Youth groups, families, singles, are all welcome.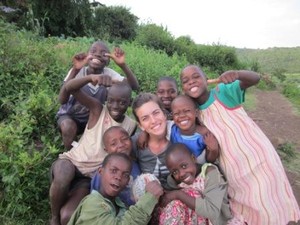 Visit our Missions page for current trip dates and details about our Winter and Summer 2019 Trip Opportunities!
Travel as a group OR travel alone and make new friends who will serve with you.

Discounts for leaders (of groups of 10 or more) and we do all the training/planning. Make plans to bring your whole group.

Set up the dates NOW while there is plenty of space open.

All Dates are tentative until airfare is booked.

This is a unique opportunity to experience life
in a very remote part of the world.
Don't pass it up!
Want to stay longer?
Apply for a 2-6 month internship ($1000 for first month and $500 for each month thereafter).

Our intern program at New Beginnings Children's Center is growing and changing.

Come and be immersed in the culture and lifestyle of this remote area, as you live within the secure grounds of our children's center.

Your personal faith will grow as you attend the weekly Bible studies and team up with our Kenyan interns to hold Bible studies for the children.

You will be assigned various jobs around the center as well as serve as a tutor for children. This is a chance to serve and live in a foreign culture within the safety of our children's center.

Is God calling you to journey with Him to this remote part of the Africa and experience His world? Visit our Long-term Missions page for information about internships and long-term mission trips.
Must be over 18 years of age to apply.
Come LIVE in Kenya!
Contact our office for details!
New Beginnings News
We have needed to take in 7 children recently. Idah, Wendy, John Junior, Brigit, Mercy, Natasha, and Alfonse have all joined our family on an emergency basis. Please keep them in prayer as they adjust to life at New Beginnings. All come with some trauma and issues in their lives that will affect them. Pray that they will come to know who they are in Christ and to live for their future. Pray for those who will come forward to sponsor them.

We have had some staff changes and we welcome several new people whom have come on board to serve the children. Edith has joined the team as a House Parent and Winnie has joined the team as a Social Worker/House Parent. Syprose has joined our team as part of our security. Please join me in praying for all our staff. It is not easy to serve in this remote community and is really a mission field even for Kenyans.

The rains have started and most people have their fields planted. All are praying for another good harvest. This is vital in our farming community.
Thanks for your prayers.
School News
The final school semester for 2018 is in full swing.
Primary School
Our primary students are busy working to have a great final semester. We have a total of 22 students in our class 8 who will sit for their national exam next month. Of those, 16 are sponsored children. YOU are making a difference in their lives.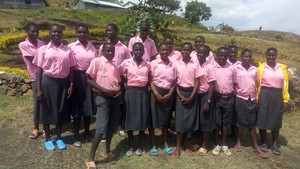 (front l-r) Kijana, Pamela, Irene, Nora, Gladys, Papa John, Phenny, and Cynthia
(back l-r) Millicent, Cynthia, Linet, Dickson, Austine, Brenda, Shindamela, and Irene
YOU have made this possible for these children! Praise God!!
Secondary School
Our 12th grade students are very busy preparing for their final national exam. We have 17 who will sit for their exam and of those 5 are sponsored students.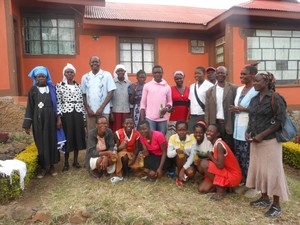 Celebrating our 2018 graduates with their parents/guardians,
our director, and high school principal.


Thanks so much for giving to the Lord in this way.
They never thought they could go this far with their education...but for YOU.
Project Development News
Our fourth classroom is completed and is already in use.

A new workshop has been built to make it possible to finish 3 classrooms. (One was being used as our maintenance workshop) The gables of those three classrooms are completed and we are now working on excavating for our secondary school offices. Once these are finished, we can successfully switch our primary and secondary schools, thus enabling us to have all brick classrooms for both schools.

Once the office is completed we will go back to finish the windows, walls and floors for the three unfinished primary classrooms. Then we can proceed with our plans for a laboratory that is needed for our secondary school.

So much to do in such a short amount of time, but with God ALL things are possible.

We cannot do it without your help and donations. We have seen that our primary school and secondary school are doing so much for these children with many qualifying for university when they graduate.

Please join us in this important endeavor to keep both our primary and secondary schools going strong.

Consider a one-time gift to the Building Fund as you near your end of year giving AT THIS IMPORTANT TIME!

Building for their future!
Primary and Secondary School Goals
Total Donated Balance needed
Fourth Classroom $5,000 $5,000 $0

Science Laboratory $11,000 $0 $11,000

Renovate 3 classrooms $9,000 $1,500 $7,500
$25,000 $6,500 $17,500

Can you help build for their Future?
Donate TODAY!

"Now may He who supplies seed to the sower, and bread for food, supply and multiply the
seed you have sown and increase the fruits of your righteousness." 2 Corinthians 9:10

Please join us in praying for finances for all these projects!
Child of the Month
Meet Kevin!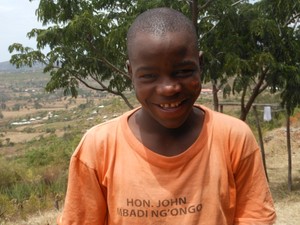 Kevin is in 9th grade. He has suffered several things within this past year. Towards the end of 2017, Kevin began to have seizures. Not sure if they were stress induced, we decided to watch and see if they stopped after his national exams. They seemed to subside for a time, but now they seem to be back. Kevin also broke his leg playing soccer and has recovered nicely. Kevin lost his sponsor and is in great need of a new one for us to continue to help him.

For just $40 a month you can make a difference in his life.
Please pray for Kevin and consider being an answer to his prayers.
College/University Scholarship Program
Currently we have 5 students in our scholarship program.

This year's Scholarship recipients are:
Brighton and Stephen who are currently in university and colleges. They were our interns in 2017.
Brighton is studying Industrial Chemistry and Stephen is completing a course in Social Science.

Our 2018 interns are now in universities and colleges.
Jescar is studying to become an administrative assistant.
Vincent is taking a course in plant management.
Geoffrey is studying to become a secondary teacher with a major in English.

We miss them as they have been a blessing to us during the past year.
However, we know we will see them again.
Please keep them in prayer.

These students never dreamed they could go on to college/university, but God has made a way. Thanks for giving to our scholarship fund to make this possible.
Donate to our scholarship fund to help give them and others an amazing future.
Children in Need
Currently we have several children living at New Beginnings who have lost their sponsors or are not fully sponsored. To remain in our program, we need your help to find them sponsors.
Please share this great need with your family and friends.
Meet Brigit!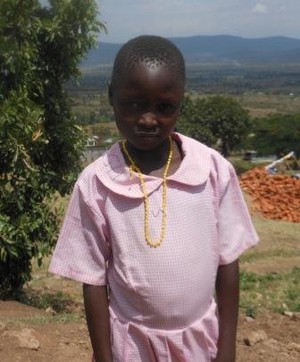 Brigit is 10 years old. Her mother has struggled to care for her since her father's death. Brigit needs help.

You can sponsor Brigit or another child for $40/month for partial sponsor or $80/month for a full sponsorship.
A child is praying...are you the answer?
100% of all sponsor donations go to help the children.
Meet John Junior!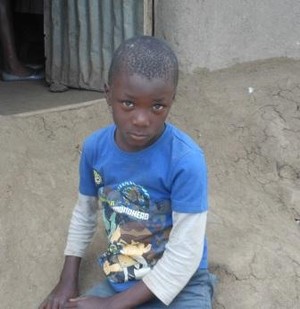 John Junior is 6 years old. His mother has struggled greatly to provide for him since his father's death. Pray for John Junior.

You can sponsor John Junior or another child for $40 for partial sponsor or $80 for a full sponsorship per month.
A child is praying...are you the answer?
100% of all sponsor donations go to help the children.
Meet Jackline!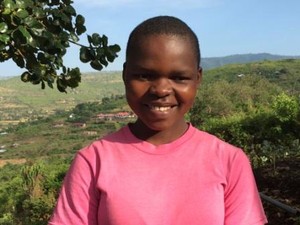 Jackline is in 9th grade and hopes to continue her education in vocational training next year. She cannot continue without your help.

You can sponsor Jackline or another child for $40 for partial sponsor or $80 for a full sponsorship per month.

A child is praying...are you the answer?
100% of all sponsor donations go to help the children.

"..when you did it to the least of these...you were doing it to me!" Matthew 25:40

If you would like to sponsor a child, you can do
so through PayPal on our Child Sponsorship page

or send a personal check to our address.

You can BE THE DIFFERENCE in the life of a child!


Shalom Christian Missions is a 501(c)3 non- profit organization,
dedicated to serving children in need throughout the world.
All donations are tax deductible.
Special Thanks to our Supporters:
A & R Rental Center - York, PA
Freedom Wireless - York, PA
Ann Downing Ministries - Hendersonville, TN
Christ American Baptist Church Youth - Spring Grove, PA
Christ American Baptist Church - Spring Grove, PA
Crestline UMC Children - Crestline, OH
Crestline UMC - Crestline, OH
Eagle Christian Ministries - York, PA
Elisha's Home and Ministries - Montrose, PA
First Baptist Church - Smithville, TX
First Evangelical Lutheran Church Youth - Chambersburg, PA
First United Church of Christ - Schuykill Haven, PA
Harvest Chapel - Abbottstown, PA
Harvest Chapel Children's Ministry - Abbottstown, PA
Mansfield Christian School - Mansfield, OH
Trinity Lutheran Church - Crestline, OH
Zion Bible Church - York, PA

We would like to add your business or ministry to our list!
Contact us TODAY!

May God bless you as you pray and give to help the children!
Donations may be made through PayPal
or you may send your donation to:

Shalom Christian Missions
1255 Mill Creek Rd
York, PA 17404
(717)586-6945