March 2019 Newsletter
Posted on Feb. 28, 2019
But God Knew!
I know that in the US everyone has been dealing with snow, ice, and cold. Here in Kenya we are dealing with hot and dry. It is sad to see the many people at the dirty stream in the valley trying to find water. It seems that the drought has hit many. This past harvest season saw no harvest in our area due to the drought conditions. There is no doubt that famine will again strike. We are so very thankful to God, and all of you who support this ministry, to be able to help many children in our area. Because of you and the many services we are offering, like the breakfast feeding program and the minimal to no cost education program, plus our child sponsorship program, we have seen our enrollment increase and know that we are helping many to see their way through the current crisis. YOU are making a difference in their lives.

This past month has been another month of many changes in Kenya. We were required to spend a week at a government-sponsored training to better understand what the government of Kenya is now requiring of its orphanages.

After UNICEF announced last year that children who grow up in orphanages tend to fall into a life of crime and/or prostitution, the recommendation was to close the many orphanages serving the vulnerable children of Kenya, and place them into foster care. Since Kenya has no real foster care program and since many extended families, especially in our area, are already caring for an abundance of orphans, this seems like an impossible solution. However, the government is requesting that orphanages become Rescue Centers for the children and work to find family that can help to care for them so that they do not lose touch with Kenyan culture and lifestyle. If a child is being placed at risk by putting them with their extended families (most children in our area are in great risk if they remain with family) we have been told the answer is to place them into boarding school which is totally acceptable in Kenya.

We PRAISE GOD that HE has placed it on our hearts to prioritize a way to give these children a good education AND that last year many of you donated to help us Save Our Schools! We might not have known what was coming BUT GOD KNEW!

As we move forward we will now seek to register our schools, both primary and secondary, as boarding schools with the children visiting with family during their school breaks. This is basically what we have been doing! We have always tried to keep our children connected to their families and lifestyle since we understand it is where they will need to go when they finish our program. We are very happy to say that we have not seen any of our graduates struggling to go back into the homes of their families.

We will begin to put more focus on keeping any child who can possibly live with their family in their home while attending our school. This will require training and counseling with the families AND regular home visits by a social worker. Although we have tried to do training in the past and were unsuccessful, it will now be a requirement for a child who is in our sponsorship program.

Please pray for us as we move forward for the love of these children. We need HIS wisdom on what and how to do what is HIS will. We know that God is still in control and we continue to see miracles. What we thought was meant to harm us last year was meant for good.

Thank you so much for partnering with us and making a difference in these children's lives. YOU are changing lives daily. Physically changes can be seen, but it is often the simple prayers and a child who finds they can succeed in their education that touch my heart the most. These are the miracles that happen daily.

Whether we face famine or just how to handle the unknown, we know this truth!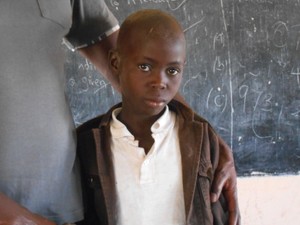 A new child looking for HOPE!
"You intended to harm me, but God intended it for good to accomplish what is now being done, the saving of many lives." ~ Genesis 50:20
Mission Expedition 2019 & 2020
Now is the time to submit your application and start planning for July 2019 or January 2020.
Spend your days immersed in the culture and lives of the children who call
New Beginnings Children's Center HOME.

Show the love of Jesus to a remote community through home visits to their modest mud houses while taking supplies to the poorest widows.
Change their lives AND change your life...FOREVER!

Our missionaries enjoy an overnight safari on the world famous Masai Mara.
July/August teams often experience the migration season.

Our missionaries stay in missionary housing of brick construction on the secure grounds of our children's center, in a very beautiful, remote part of Kenya.
Youth groups, families, singles, are all welcome.

Must be 13 or older to travel without a parent or guardian.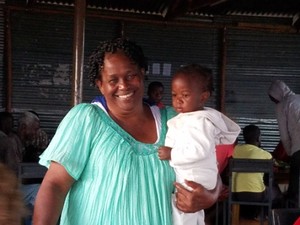 2019 Summer Trip!
July 17-August 2, 2019* (2 weeks) $1500 + airline ticket
July 3 - August 2, 2019* (1 month) $2000 + airline ticket
*All dates are tentative until airfare is booked.
There is still time to apply but do so quickly!
Visit our Summer 2019 Missions Page for details and to download an application!
2020 Winter Trip!
January 17-February 2, 2020* (2 weeks) $1500 + airline ticket
January 17 - February 17, 2020* (1 month) $2000 + airline ticket
*All dates are tentative until airfare is booked.

Travel as a group OR travel alone and make new friends who will serve with you.
Discounts for leaders (of groups of 10 or more) and we do all the
training/planning. Make plans to bring your whole group.

Must be 13 or older to travel without a parent or guardian.
Set up the dates NOW while there is plenty of space open.
Visit our Missions Page for an application or call 717-586-6945.

All dates are tentative until airfare is booked.
Can't make these dates? Contact us for other dates.

This is a unique opportunity to experience life in a very remote part of the world.
Don't pass it up!

Internship
For those who would like to spend 4-6 weeks with us, you can request to come as an intern.
Immigration laws in Kenya are now limiting the time an intern can join us.

The difference between an intern and the one month trip is that the cost for an intern does not include any extras, such as safari, cost to do particular ministry, etc that might be involved with a one month trip.

|Must be over 18 years of age to apply as an intern.

Is God calling you to journey with Him to this remote part of the Africa and experience His world?

Visit our Long-Term Mission Opportunities page to learn more about Internships and Long-Term missions and get ready to serve.

Come LIVE in Kenya!
Contact our office for details!

New Beginnings News
School News
The first semester is half way to completion.
Primary School
Our primary school is so happy with their new location. For primary students to have nice brick classrooms instead of dirt floor iron sheet classrooms gives them extra value. It also is an improvement for the health and well-being of our students and has made learning so much better. We are so grateful to all who made this possible. Our primary school placed 2nd out of 30 schools in our area in 2018, even in dirt floors. We have seen an increased enrollment from about 180 in 2018 to over 230 this year. Thanks for giving these children an opportunity to receive a quality education.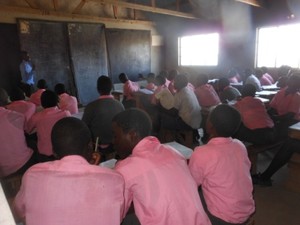 Secondary School
Our Secondary School has seen a slight increase in number, but not as much as the primary. We continue to work to hire some top teachers in each area of expertise. Our secondary school placed 6th out of 33 in our area. With the building of our Science Lab about to begin, we know this will really help the children be able to grasp the study of biology and chemistry much better.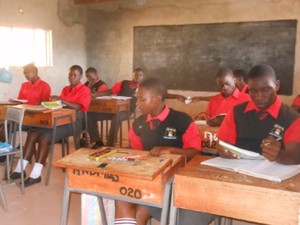 Thanks so much to all who have given to our building fund to make this possible for these children. Hope to see many more attending universities and colleges in the coming years.
Project Development News
PRAISE GOD!!
MANY MANY THANKS to everyone who helped us reach our goal to Save Our Schools!!

Because of you, we have reached our goal to do what we have been asked to get our final registration for our primary and secondary schools. What a HUGE difference this is making in the lives of those in our community and surrounding communities.

In 2018, our primary school placed 2nd out of 30 primary schools in our area. Our secondary school placed 6th out of 33 in our area. THIS IS BECAUSE YOU CARED!! These children never dreamed they would have an education and now many are going on to Universities and Colleges. YOU ARE CHANGING LIVES!!

Thanks to so many who have really made this dream come true for so many children who just want a chance in life. They want a chance to learn so that their lives can be a little better than their ancestors. For a child who is an orphan, it is nothing more than a miracle to have this chance. The comment we hear the most from our students as they leave our program is, "Thanks for making me to be a somebody." The life of an orphan in this part of the world means you will be a nobody in life, with no future. YOU have changed that for these children

We are all blessed to know each of YOU!!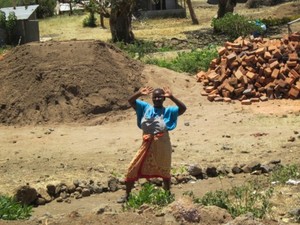 Building for their future!
Primary and Secondary School Goals Total Donated Balance needed
Fourth Classroom $5,000 $5,000 $0
Science Laboratory/Office $11,000 $7,500 $0
Complete 3 classrooms $11,000 $11,000 $0
$27,000 $27,000 $0

We might still need an amount for some plumbing for our laboratory. We are still waiting to get that quote.

Stay tuned for our NEWEST building project for 2019: Our Early Childhood Development Center. These little ones deserve a place to learn and grow too!!

Can you help build for their Future?
Donate TODAY!
"Now may He who supplies seed to the sower, and bread for food,
supply and multiply the seed you have sown and increase the fruits of your righteousness."
2 Corinthians 9:10

Please join us in praying for finances for all these projects!
You can make a donation to our Building Fund through PayPal!
Child of the Month
Meet Emily!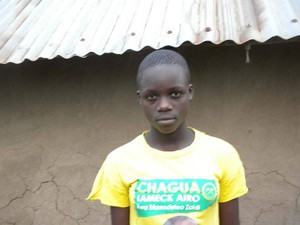 Emily is 15 years old and in 8th grade. She is one of the top students in her class. Emily's father left her mother and then later her mother abandoned her to find work in the city. She was left with her grandmother, who died two years ago. Throughout all of this Emily has managed to stay focused on her education. She is asking for prayers to find a sponsor so that she will be able to continue her education.

Please pray for Emily.

Visit our Child Sponsorship page to become Emily's sponsor TODAY!
College/University Scholarship Program
Currently we have two students in our intern/scholarship program.
This year's intern/scholarship recipients are Geoffrey and Timothy.

Geoffrey, who was an intern in 2018 and is currently in university, is studying to be a teacher with his major in English.

Timothy has just begun our intern program for 2019.
This will help qualify him for the scholarship program. Timothy aspires to study clinical medicine.
He will be assigned a job to do during the day, but one of the key things he will be responsible for is helping our younger students during morning and evening study times.

Our interns are taught how to dress for the job, how to behave on the job, etc. They will be taught proper time management and money management. They will attend a weekly Bible study and possibly help with Bible studies for the younger children. We will provide our interns with a computer training course during this time, which will help them immensely when they move on to college/university.

It will not be an easy year for Timothy and if he does not adhere to our strict rules, he will be dismissed from the program.
Please keep them in prayer.

Donate to our College/University Scholarship Fund to help give them and others an amazing future.

(You can donate to the scholarship fund for a certain student or a general donation to the Scholarship Fund. If a student goes over and above what is needed, the funding will help another student in need.)
Children in Need
We praise God that Sheril, Braddox, Velma and Stracy have all found sponsors!
Currently we have 11 children living at New Beginnings who have lost their sponsors or came as an emergency cases.

We also have 11 who need a partial sponsor.
To remain in our program, we need your help to find them sponsors.
Please share this great need with your family and friends.
Meet Brian!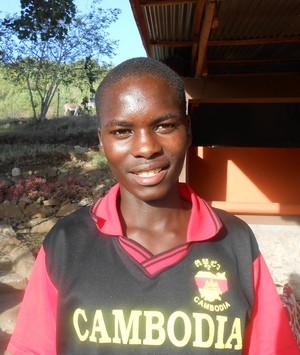 Brian is in 8th grade. Since his father's death in 2012, his mother has struggled to provide. Brian has lost his sponsor and is in need of a new one to continue.

You can sponsor Brian or another child for $40 as a partial sponsor or $80 for a full sponsorship per month.

A child is praying...are you the answer?
100% of all sponsor donations go to help the children.
Meet Rolex!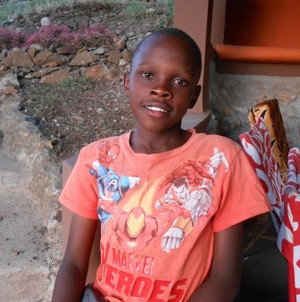 Rolex is in 8th grade and is a very bright student. After his father's death his mother found it impossible to care for her children. Roex has lost his sponsor and is in need of a new one.

You can sponsor Rolex or another child for as little as $40 per month.

A child is praying...are you the answer?
100% of all sponsor donations go to help the children.
"...when you did it to the least of these...you were doing it to me!" Matthew 25:40

If you would like to sponsor a child, you can do so through our Child Sponsorship Page
or send a personal check to our address:
Shalom Christian Missions
1255 Mill Creek Rd
York, PA 17404

You can BE THE DIFFERENCE in the life of a child!
Shalom Christian Missions is a 501(c)3 non- profit organization,
dedicated to serving children in need throughout the world.
All donations are tax deductible.


Special Thanks to our Supporters:
A & R Rental Center - York, PA
Freedom Wireless - York, PA
Abundant Life Ministries - Pulaski, VA
Ann Downing Ministries - Hendersonville, TN
Christ American Baptist Church Youth - Spring Grove, PA
Christ American Baptist Church - Spring Grove, PA
Crestline UMC Children - Crestline, OH
Crestline UMC - Crestline, OH
Eagle Christian Ministries - York, PA
Elisha's Home and Ministries - Montrose, PA
First Baptist Church - Smithville, TX
First Evangelical Lutheran Church Youth - Chambersburg, PA
First United Church of Christ - Schuykill Haven, PA
Harvest Chapel Children's Ministry - Abbottstown, PA
Mansfield Christian School - Mansfield, OH
Trinity Lutheran Church - Crestline, OH
Zion Bible Church - York, PA

We would like to add your business or ministry to our list!
Contact us TODAY!!

May God bless you as you pray and give to help the children!
Donations may be made through PayPal
or you may send your donation to:
Shalom Christian Missions
1255 Mill Creek Rd
York, PA 17404
(717)586-6945