January/February 2018 Newsletter
Posted on Jan. 29, 2018
Happy New Year!
A New Year has come, with all the challenges we will accept from the Lord. How will your year be? Will you accept the challenges that God places before you or will you walk away and say it is just too BIG?
We make these choices each day, whether we want to admit it or not. God places so many opportunities before us. We will need to decide if God is calling us to the challenge or not but more often than not, I think God calls us and we walk away, we just fear the challenge that has been placed before us.
As I look at this past year and see what God has accomplished, I stand in awe. It is not by my hands but it is only because I chose to say, "Yes Lord!"
Here is what HE has done in 2017!

Building at New Beginnings:
A new classroom was built (making our third brick primary classroom)
A new kitchen was built
A new dining hall
A new food store room
A new road was completed making access to the center a bit easier.
A new pump was provided for the community well (when theirs broke down)
More painting
Rain gutters have been added
A new water harvest tank was added
Serving:
130 children served by our orphanage
100+ community children received breakfast daily
184 children attended our primary school
83 students attended our secondary school
77,820 breakfast were served
53,875 lunches were served
43,800 dinners were served
Lives changed:
130 children receive full service from New Beginnings, provided with food, education, clothing, medical care, and housing (when needed). These children's lives are changed everyday since they no longer need to worry what they will eat, will they be able to attend school, where will they sleep, and if they get sick, who will care for them. This not only changes their lives but also the guardian who has struggled to care for them. This often makes life just a bit easier for a widow, grandmother, uncle/aunt so that they can care for other children in need.
A new baby was born that might otherwise have been aborted.
11 sponsored young adults graduated from secondary school and finished our sponsor program. Out of the 11, four have become interns at New Beginnings where they will serve, learn, and grow in 2018 to become people of integrity, who will then become good employees and responsible members of society. Out of those 11 graduates, two qualify for a university level education.
Plus, many others qualify for various colleges.
This is how God is changing lives through all of YOU!! You are making a huge difference in their lives. We and they can never thank you enough for what you are doing.

This year already has it challenges and as we move forward we will face more. Right now our biggest challenge is that of needing new sponsors. We have so many children in great need and several emergency cases we have had to take in to protect the lives of precious children.
If you are not sponsoring a child, consider the rewards of changing a child's life, through your support. If you are, perhaps you can consider extending your reach to include another child in need OR by sharing with a friend that our program is changing lives and perhaps they would consider helping. Your voice can change the life of a child. Click here to learn about children in need of sponsorship.
We are also faced with several other challenges. The need for a vehicle has become paramount, and we appreciate any donations to reach our goal. We have recently found a used safari type vehicle that we think would work for our needs. It will cost $23,000. If you or your group would like to give for this need, it would be greatly appreciated.
Then there is also the cost to build our new Preschool section, and to build a greenhouse. Please consider giving to these needs to help us continue to develop this project for the children. You can donate to our building fund here.

Thanks so much for your continued support through finances and prayer. Continue to listen to what God is challenging YOU to do. Please share what God is doing on this remote hillside in far off Kenya at New Beginnings, where miracles are happening everyday.
Calendar of Events
Saturday April 21, 2018: Benefit Dinner in Ohio
Friday May 18 - Sunday May 20: Middle Tennessee Women's Retreat in Nashville, TN
July/August: Mission Teams to New Beginnings in Kenya

Schedule US!
We have open dates to share about what God is doing on a remote hillside in far off Kenya.
Please contact us to share about the miracles that God is doing.
Prepare to stand in AWE!
Giving
We will continue to collect under garments of all sizes. We have a particular need for
bras, slips, pajamas of all sizes.

We are also collecting gently used and new sneakers and soccer shoes (cleats).
Children through adult sizes are needed.

Donations can be sent to our headquarters in York, PA.
Mission Expedition 2018
Our 2018 teams are forming.
Now is the time to submit your application and start planning.
Ticket prices are great!

All of our missionaries will enjoy an overnight safari on the world famous Masai Mara. Our July/August teams, will experience the migration season.

Our missionaries stay in missionary housing of brick construction, on the secure grounds of our children's center in a very beautiful, remote area of Kenya.

Spend time immersed in the culture and lives of those who call New Beginnings Children's Center HOME.
Show the love of Jesus to the community through visits and evangelism.
Change their lives AND change your life...FOREVER!

Youth groups, families, singles, are all welcome.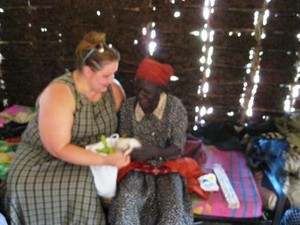 Visiting widows in their homes.
Visit our Missions Page for trip dates and to download an application.
Want to stay longer?
2-6 month internship ($1000 for first month and $500 for each month thereafter)

Long-term mission opportunities available. Come LIVE in Kenya!
Visit our Long-term Mission Opportunities page for details!
New Beginnings News
This past month has brought several new children to New Beginnings Children's Center.
Arshel and Ashey were the first to arrive. Both are 5 years old and are half sisters. (Polygamy is widely practiced.)

Their father was killed in a traffic accident and the two girls and four other children were abandoned by their mothers to remain with an old grandmother. The grandmother was unable to care for all the children and sought our help. We welcome Arshel and Ashey.

Roberto also found a sponsor and has come to live at New Beginnings. His family lives in the community but his mother requested that we allow Roberto to live with us at New Beginnings since his home life is not a good place for him to learn and grow.

Sharon has also come to live at New Beginnings although she is in need of a sponsor. She is a total orphan and her uncle was finding it just too difficult to care for her basic needs. Please pray for Sharon to find a sponsor.

Arshel, Ashey, Sharon, and Roberto have all adjusted well to their new home.

This week we have welcomed Dorine and her sister Grace. Both come to us as emergency cases. Both were being physically and sexually abused in their home environment. Dorine has found partial support and still needs another sponsor at $40/month. Grace needs full support at $80/month. Please pray for both girls. They also have a brother, Charles, who is in need of being rescued. To become a sponsor, visit our Child Sponsorship page

Charles and Grace are in need of sponsors.
New Beginnings is also providing a safe haven for 2 teens who became pregnant in the community and needed a safe place to live for various reasons. Their names are Lucy and Dorine (not the one mentioned above). Lucy has recently given birth to a little girl. Please pray for both girls and the new life that has come and the other yet to be born baby.
We thank you for your prayers and support for all of these children.
School News
Both our Primary and Secondary Schools are back in session.
It is now a very busy time as new students arrive and are registered for classes at New Beginnings.
Primary News
Our primary school is off to a great start. The re-election is being held for student offices. It was originally held in October 2017, but found to be corrupted and is now in the process of re-elections. It is an exciting time for the children and teaches them so many things.

We have also seen our enrollment increase since 2017, as our school is one of the local primary schools with great results with our students. We are also excited to see the addition of one of our former students, David, who is now employed in the preschool section of the primary school, while he continues his training for his certification.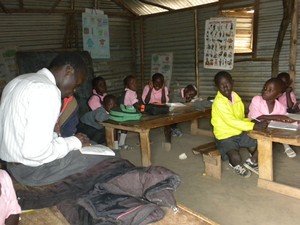 Secondary News
Our secondary school is also growing this year. Even with the government providing tuition for local day students, the parents are finding New Beginnings to be a better alternative in giving their children a high quality education at less cost than the boarding schools.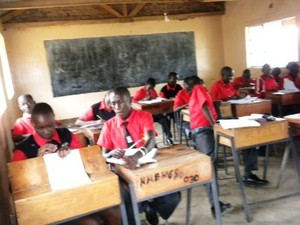 Please keep both schools in prayer as they work to give the children the best education possible and to see the students grow mentally and spiritually.
Project Development News
Our greatest need in continuing to develop our project is the need for a vehicle. We have made some inquires and have located the type of vehicle we need. The cost is $23,000. We cannot do this without YOU!

Please consider a one-time donation to help us cover the cost for a vehicle to transport our children to various places, transport food and supplies, and to transport visiting missionaries. This is a great price and we hope that many of you will come on board to help us reach the needed goal. Below is the type of vehicle we hope to purchase.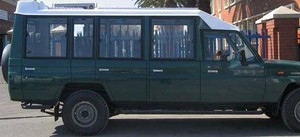 Please help us buy an urgently needed vehicle.
In 2018 we also hope to build a new ECD (Early Childhood Development) section. Currently our ECD classrooms are falling apart and they must be torn down for the next section for our primary classroom.
We have designated an area away from our primary classroom that will be fenced and will keep our youngest students safe. They will have their own playground and latrines. We want the classrooms to be a great place for our youngest children to begin to learn and be safe at the same time.
| | | | |
| --- | --- | --- | --- |
| 2018 Goals | Cost | Donated | Still Needed |
| Preschool Classrooms | $20,000 | $0 | $20,000 |
| Vehicle | $23,000 | $0 | $23,000 |
| Green House/Water Harvesting | $5,000 | $0 | $5,000 |
| | | | |
| | $48,000 | $0 | $48,000 |
Can you help our development for their Future?
Donate TODAY!


"Now may He who supplies seed to the sower, and bread for food, supply and multiply the seed you have sown and increase the fruits of your righteousness." 2 Corinthians 9:10

Please join us in praying for finances for all the developmental projects!
Child of the Month
Meet Sharon!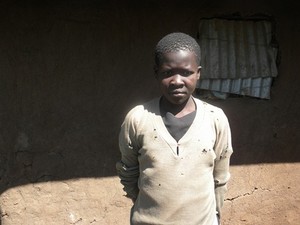 Is God calling you to give the gift of HOPE to Sharon?
College/University Scholarship Program
Currently we have seven students in our scholarship program.

This year's recipients are:
Brighton, Stephen, and David (who are currently in university and college)
Jescar, Sharon, Geoffrey, and Vincent (who are our current interns at New Beginnings through the scholarship fund)

These students never dreamed they could go on to college/university, but God has made a way.
Help give them an amazing future. You can make a one-time or recurring monthly donation to the College/University Scholarship Fund through PayPal.
Children in Need
Currently we have several children living at New Beginnings who have lost their sponsors or are not fully sponsored. To remain in our program, we need your help to find them sponsors.
Please share this great need with your family and friends.
Meet Brian!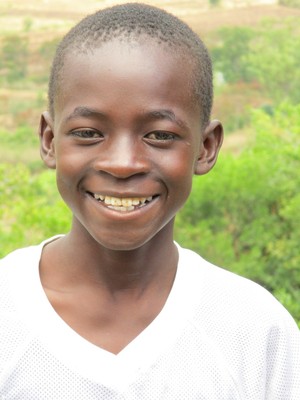 Brian is 13 and a total orphan. He is in class 6 and hopes to continue in school through high school He is in need of a partial sponsor at $40/month to do this. Can you help Brian?

You can sponsor Brian or another child for $40 for partial sponsor or $80 for a full sponsorship per month.

A child is praying...are you the answer?
100% of all sponsor donations go to help the children.

Visit our Child Sponsorship page for details about becoming a sponsor.
Meet Cynthia!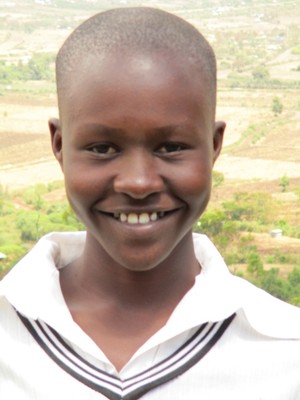 Cynthia is 13 years old. Since her father's death, her mother has been unable to provide for the basic needs for Cynthia. Cynthia needs a partial sponsor at $40/month. Is God calling you to help Cynthia?

You can sponsor Cynthia or another child for $40 for partial sponsor or $80 for a full sponsorship per month.

A child is praying...are you the answer?
100% of all sponsor donations go to help the children.

Visit our Child Sponsorship page for details about becoming a sponsor.
Meet Gabriel!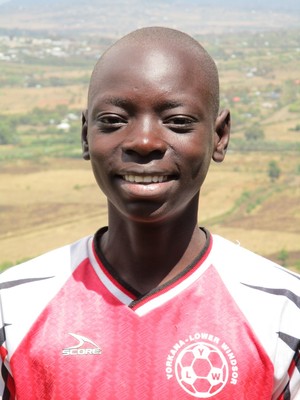 Gabriel is 15 and a total orphan. He just wants a chance in life, but he has lost his sponsor. He is in need of a full sponsor. Is God calling you to give Gabriel a gift of HOPE?
You can sponsor Gabriel or another child for $40 for partial sponsor or $80 for a full sponsorship per month.

A child is praying...are you the answer?
100% of all sponsor donations go to help the children.

Visit our Child Sponsorship page for details about becoming a sponsor.

You can BE THE DIFFERENCE in the life of a child!
Shalom Christian Missions is a 501(c)3 non-profit organization,
dedicated to serving children in need throughout the world.
All donations are tax deductible.
Special Thanks to our Supporters:
A & R Rental Center - York, PA
Bob Evan's - Mansfield, OH
Cheddar's - Mansfield, OH
Brown Derby Roadhouse - Mansfield, OH
Freedom Wireless - York, PA
Kroger's - Bucyrus, OH
O'Charlie's - Mansfield, OH
Sleep Inn - Galion, OH
Ann Downing Ministries - Hendersonville, TN
Christ American Baptist Church Youth - Spring Grove, PA
Christ American Baptist Church - Spring Grove, PA
Crestline UMC Children - Crestline, OH
Crestline UMC - Crestline, OH
Eagle Christian Ministries - York, PA
Elisha's Home and Ministries - Montrose, PA
First Baptist Church - Smithville, TX
First Evangelical Lutheran Church Youth - Chambersburg, PA
First United Church of Christ - Schuykill Haven, PA
Harvest Chapel - Abbottstown, PA
Harvest Chapel Children's Ministry - Abbottstown, PA
Trinity Lutheran Church - Crestline, OH
Zion Bible Church - York, PA

May God bless you as you pray and give to help the children!
Donations may be made through paypal or you may send your donation to:
Shalom Christian Missions
1255 Mill Creek Rd
York, PA 17404

(717) 586-6945