February 2020 Newsletter
Posted on Feb. 2, 2020
We can't do it without YOU!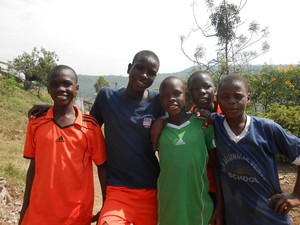 What a wonderful thing that God has given us a new year and a new decade. May we be grateful for each day that He has allowed us to serve Him.

As I reflect back on this past year it has been one of blessings and struggles, goals met and new challenges to achieve. With God we continue on and know that we can "do all things through Christ who strengthens me." (Phil 4:13)
Some things we accomplished in 2019:
128 children were served by the children's home. Some lived at our home and some remained with guardians (when it was safe).
Over 200 children attended our primary school. Our primary school ranked 3rd in the district. 22 students took the 8th grade national exam this past year and all did very well.
78 children attended our high school. Our high school had 19 students graduate.
We provided a vocational education for 5 children with 2 finishing their vocational training. One in auto mechanics and one as an electrician.
The children's center provided employment for 50 people from the community and all over Kenya. This includes the children's home, primary school, and secondary school.
Our kitchen staff served over 269,000 meals.
Our breakfast program served over 88,000 to hungry children, including many from the community.
14 students finished our program in 2019. Several will move on to universities and colleges. Some have already found employment. Two have requested to repeat 12th grade.
1 student finished our intern program and is currently attending a university, thanks to scholarship money for him to do so.
So many of our children have come to a deeper understanding of whom they are in Christ and how that affects their lives.
In 2019, we were able to switch locations of our primary and high school classrooms, thus providing brick built classrooms for all the children.
We saw the building of our Science Laboratory for our high school students.
Our maintenance workshop and storage was rebuilt at a better location.
Our goat/cow pen was also rebuilt and relocated to a better location.
We began adding chain-link to all our fencing to make New Beginnings more secure.
After our boys bathing room was torn apart in a storm mid year, we began the building of a permanent bathing room next to our boys dorm. At some point in the future this will be ready for running water.
We built a volleyball court for the children to play.
We began excavation for our preschool classrooms.
All of this and much more has only been possible because of people like you who have a heart to give to help these children arise out of poverty. The changes we are seeing cannot be expressed in words. God is moving mountains to change these lives. To think that these children have overcome so much and will give glory to God over and over. We see the miracles every single day.
We invite all of you reading this to come and join us on the hill for just a short time to witness the miracles.

To God be the glory for what HE is doing!!
Operation Christmas Shoes Update
We thank God for all who gave to Operation Christmas Shoes in 2019. We fell a little bit short of our goal but are very grateful to have collect about $2500 of our $3000 goal. Thank YOU!! From the children and all of us. You have truly blessed their lives.
Our Children's Choir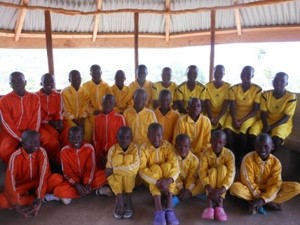 Our Children's Choir
Enjoying beauty after their lives seemed destroyed.
If you would like to hear them singing, we would be happy to bring them to you via video.
Contact us TODAY!
717-586-6945
Let's do Coffee or Dinner!
We have open dates and would love to meet with you and a couple friends for coffee or dinner for a chance to share what God is doing on a remote hillside in far off Kenya.
Contact us today to set up your date.
We can't do it without YOU!!
Mission Expedition 2020
Now is the time to submit your application and start planning for July of 2020.

Spend your days immersed in the culture and lives of the children who call New Beginnings Children's Center HOME.

Show the love of Jesus to a remote community through home visits to their modest mud houses while taking supplies to the poorest widows.

Change their lives AND change your life...FOREVER!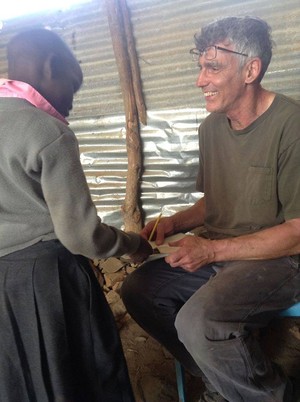 Our missionaries enjoy an overnight safari on the world famous Masai Mara.
July/August teams often experience the migration season.

Our missionaries stay in missionary housing of brick construction on the secure grounds of our children's center in a very beautiful, remote part of Kenya.
Youth groups, families, and singles are all welcome.
2020 Summer Trip!
July 17 - August 2, 2020* (2 weeks) $1500 + airline ticket (currently some great deals on airline)
July 3 - August 2, 2020* (1 month) $2000 + airline ticket
*All dates are tentative until airfare is booked.
Looking for other dates? Contact us!
There is still time to apply but do so quickly!!
2021 Winter Trip!
February 15 - February 28, 2021* (2 weeks) $1500 + airline ticket
January 28 - February 28, 2021* (1 month) $2000 + airline ticket
*All dates are tentative until airfare is booked.

Looking for other dates? Contact us!
Travel as a group OR travel alone and make new friends who will serve with you.
Discounts for leaders (of groups of 10 or more) and we do all the training/planning. Make plans to bring your whole group.
Must be 13 or older to travel without a parent or guardian

Set up the dates NOW while there is plenty of space open.
Visit our Missions page for an application or call 717-586-6945.
All dates are tentative until airfare is booked.
Can't make these dates? Contact us for other dates.
This is a unique opportunity to experience life in a very remote part of the world.
Don't pass it up!
Internship
For those who would like to spend a month or more with us, you can request to come as an intern.
Interns will be assigned a certain job to do while you are at New Beginnings.
Must be over 18 years of age to apply as an intern. Find details at our Long-term Missions page.
Contact our office for details!
New Beginnings News
School News
Primary School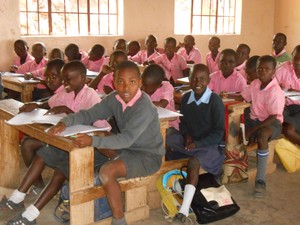 Our Primary School is off to a great start. Each day more and more new students are coming to get a good education. Please pray for them as the teachers and students work with changes in curriculum to meet the new government standards for education.
Secondary School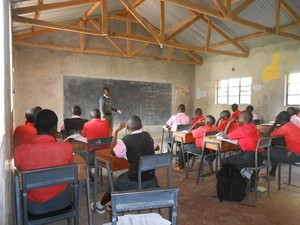 Our secondary/high school is off to a great year. With some new teachers on board, our focus will be helping our children more with math skills than ever before. We want our school to be one of excellence in the area. Please pray for them.

To God be the glory!
Project Development News
Next up on our list of needs for development is the need for our preschool classrooms.
Our preschool continues to grow. Currently we have over 50 children attending . They are meeting in one classroom with a wooden divider between the classrooms. It is very difficult to teach noisy preschool children under these conditions. We want to offer our little ones the best start to their education as possible but we cannot do it without your help.

Here is what is estimated to be our need for our preschool.
(Please note: we have changed the way we will build according to what works best with our contractor. Instead of one classroom at a time, he prefers to build all of the foundation, walls, etc at the same time.)
Phase IV
Building for their future!
Preschool Total Donated Balance needed
Classroom 1 $7,000 $5,050 $1,950
Classroom 2 $7,000 $0 $7,000
Classroom 4 $7,000 $0 $7,000
Office, tables, etc. $7,000 $0 $7,000
Bath house and water tank $3,000 $3,000 Completed
$31,000 $8,050 $22,950

We are very close to what is needed for the first classroom.
Can you help build for their Future?
Any size donation will help us reach our goal.
Donate TODAY!
"Now may He who supplies seed to the sower, and bread for food, supply and multiply the seed you have sown and increase the fruits of your righteousness."
2 Corinthians 9:10
Please join us in praying for finances for this project!
Make a donation to our Building Fund!
Child of the Month
Meet Beatrice!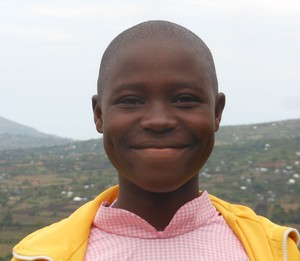 Beatrice is 14 years old and just started 8th grade. Beatrice was abandoned as a baby and was taken in by a widower to raise with his son. He was later killed in the post-election violence of 2008, leaving Beatrice alone once again. Her brother became part of New Beginnings and then begged us to take his sister. Beatrice is an average student with her strength being Science. She is asking for prayers to be able to focus well in school and mostly she wants prayers to find a partial sponsor. Please pray for Beatrice.

Could you be the answer to her prayers?
College/University Scholarship Program
We have a correction in our interns for 2020. We now have 3 interns serving at New Beginnings

These 3 will serve at New Beginnings for about 6 months until going to university or colleges.
Things are looking so much brighter for these students because someone gave them a chance. Please keep them in prayer.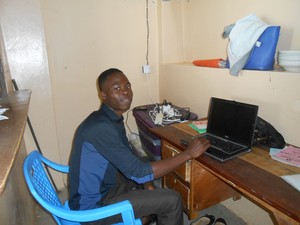 Donate to our College/University Scholarship Fund to help give them and others an amazing future.

You can donate to the scholarship fund for a certain student or a general donation to the Scholarship Fund. If a student goes over and above what is needed, the funding will help another student in need.

If you have donated scholarship money to a certain student, we will do our best to get it to the school they choose. If the student decides to not attend a school, it will go to help other students who want to further their education.
Children in Need
Currently we have many children living at New Beginnings who have lost their sponsors or came as an emergency cases. These children can use either a partial or full sponsor.
To remain in our program, we need your help to find them sponsors.
Visit our Sponsorship page to view more children in need.
Please share this great need with your family and friends.
Meet Samwel!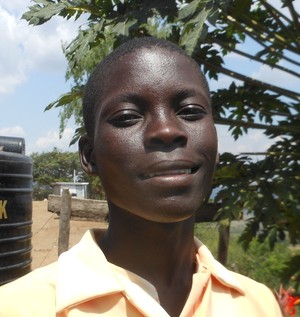 Samwel is in 8th grade and is one of our top students. He has lost his sponsor and in need of either a partial or full sponsor. Could God be calling you to help Samwel? You can partially sponsor Samwel for $40 a month or fully sponsor him for $80 a month.
A child is praying...are you the answer?

100% of all sponsor donations go to help the children.
Meet Wendy!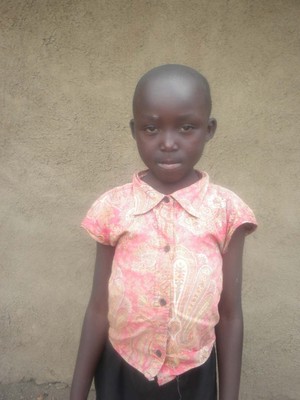 Wendy is 8 years old and in 1st grade. Her parents are peasant farmers and can not afford to send her to school without help. Wendy needs a sponsor. You can partially sponsor Wendy for $40 a month or fully sponsor her for $80 a month.
Is God calling you to help?

100% of all sponsor donations go to help the children.
Meet Duncan!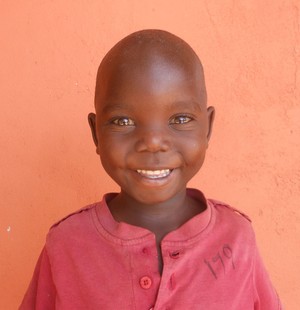 Duncan is 5 years old. His mother is blind and Duncan was conceived through rape. His grandmother struggles to care for him. You can partially sponsor Duncan for $40 a month or fully sponsor him for $80 a month.
Duncan needs a chance in life. Can you help?

100% of all sponsor donations go to help the children.
"..when you did it to the least of these...you were doing it to me!" Matthew 25:40
If you would like to sponsor a child, you can do so through our Sponsorship page
or send a personal check to our address:
Shalom Christian Missions
1255 Mill Creek Rd
York, PA 17404

You can BE THE DIFFERENCE in the life of a child!
Shalom Christian Missions is a 501(c)3 non- profit organization,
dedicated to serving children in need throughout the world.
All donations are tax deductible.
Special Thanks to our Supporters:
A & R Rental Center - York, PA
Ann Downing Ministries - Hendersonville, TN
Chadwick Optical - Harleysville, PA
Christ American Baptist Church Youth - Spring Grove, PA
Christ American Baptist Church - Spring Grove, PA
Crestline UMC Children - Crestline, OH
Crestline UMC - Crestline, OH
Eagle Christian Ministries - York, PA
Elisha's Home and Ministries - Montrose, PA
First Baptist Church - Smithville, TX
First Evangelical Lutheran Church Youth - Chambersburg, PA
First United Church of Christ - Schuykill Haven, PA
Harvest Chapel Children's Ministry - Abbottstown, PA
Mansfield Christian School - Mansfield, OH
Trinity Lutheran Church - Crestline, OH
Zion Bible Church - York, PA

We would like to add your business or ministry to our list!
Contact us TODAY!!

May God bless you as you pray and give to help the children!
Donations may be made through PayPal
or you may send your donation to:
Shalom Christian Missions
1255 Mill Creek Rd
York, PA 17404
(717) 586-6945