August 2022 Newsletter
Posted on Aug. 16, 2022
Challenges and Opportunities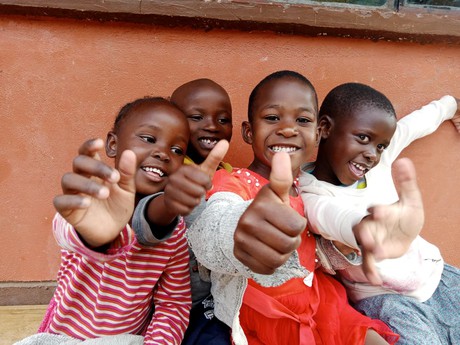 We are having a great year on the hill in Kenya. It's an election year and that brings its own challenges for this nation. Our prayers are that it will be remain peaceful regardless of the election outcome.

There have been other challenges this year as well. We have been working hard to get electricity on the hill. If you are interested in helping with this project, contact us.

Another challenge is with the education system. In an effort to better their education, the government has adopted a new curriculum and starting in January will also adopt the Jr high concept in their education system. Both the new curriculum and addition of Junior high will require us to add certain elements to our schools to meet the requirements. One will be a computer lab and the second will be a home science lab that will include various things of day to day living in Kenya. We are working hard to adjust our program to include the new education curriculum.

Our goal is to be the #1 school in our sub county. We are committed to hiring the BEST teachers for various subjects and to ensure that all our students have easy access to after school help in all subjects. Our after school program is being run by our interns and continues during school break. Any students from the community who would like to come for extra help are welcome. Often a student just needs that extra one on one time to learn how to tackle a new concept. Pray for all our students in primary school, high school, and further education.

We have managed to purchase a motorcycle and that is giving us so much more freedom and accessibility for our staff and students. We are still hoping to purchase a vehicle this year to make it easier to transport students, staff, and to purchase supplies in bulk. If you are interested in helping with this project, contact us.

We continue to hire more and more of our former students. In the past few months we have hired Sharon to serve in our accounting department, Felix to serve in our procurement department, and Brighton to serve in our high school. We love to hire our homegrown students when possible. They have proven to understand and embrace our core values quicker than most other staff, they understand the challenges we face, and have a real heart to give back to other students as they were given a chance in life before.

Another new project we hope to achieve within the next year is to establish a vocational school in our area. As we have been sending our students in need of vocational learning out to other schools, we have come to realize that we are not satisfied with the learning experience they are receiving. By starting our own school, we can begin to incorporate our core values and provide the education we want these students receive while having them learn and grow at New Beginnings. Our community has been asking from the beginning that we start a vocational school for people in the community.

A new venture for us is the beginning of a neighborhood convenience store. This will be a great way for some of our students to learn how to manage and operate a business opening a new path for some of our students as they finish our program. While providing the community with a shop within easy access, it will also bring in some extra income for the center. We continue to work more and more to help the center become self-sustaining and to provide different options for our students to learn and grow to become productive citizens of Kenya.

We continue to have a growing list of children who are in need of help. As we become a "City on the Hill" to this community and the children, even our staff are on the look out for those within the community who are in great need of assistance. We need your help to help these children. We would welcome the opportunity to visit your small group, church, Sunday School, Bible study, etc to help us get the word out about what God is doing. What is happening on this hillside in far off Kenya is nothing short of a miracle from God. We give Him all the glory and we also know we can't do it alone. WE NEED YOU!!

We are working hard to see New Beginnings be that light in the darkness of this part of the world. We hope you will join us. Ways you can help:
Donations are always needed to keep the progress moving forward.
We have children in need of sponsors. Consider helping just one and make a difference in their life.
We need Prayer Warriors. The enemy prowls around looking for those who are unprotected to devour. Contact us to get involved with our Prayer Warriors.
Visit us on the hill in Kenya and serve the children. They love when you come.
Invite us to an evening of Coffee and Friends. We will bring the coffee and tea from Kenya, you just invite a few friends. Hear about what God is doing.
Consider doing a fundraiser for our Building Fund, University Sponsorship, or our Next Step Program.
We are finding so MANY opportunities opening to help our community to become stronger and to know Jesus more, but we can't do it without your help. Consider getting involved in some way. We give God all the glory but He wants people to step out in faith and get involved in what HE is doing. JOIN US!!
OPERATION CHRISTMAS SHOES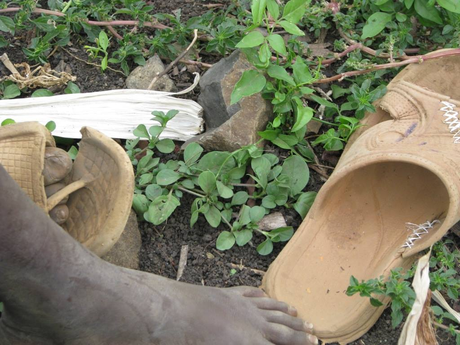 It is that time of year again when we are collecting for school shoes and socks, uniforms, and textbooks for our schools. We need approximately $30 per child to purchase shoes, socks, and uniforms. You can give as much or as little as you want to help us reach our $5,000 goal. Donate here through PayPal or mail a check to:

Shalom Christian Missions
1255 Mill Creek Rd
York, PA 17404
Thank you for blessing our children this holiday season!
Donations Needed
Soccer Uniforms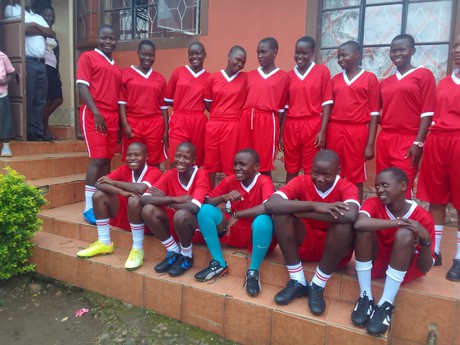 Our girls high school soccer team has taken first place in the local and sub-county tournaments. They will so go on to compete in the county tournament and have really requested that they have real soccer shoes and New Beginnings uniforms. We have agreed that this should really be the case for this team. We would like to be able to purchase uniforms and shoes for both our girls and boys soccer teams. The cost for each team will be about $700. If you would like to give to see this dream happen, consider a gift today and mark it soccer. Thanks for your help!

Undergarments
We are still collecting undergarments. Our greatest need is for bras and camisoles (with the inner bra). We also need PJ's. These can be new or gently used. Our girls really appreciate these and put them to good use.
Prayer Partners
Please continue your prayers for our ministry to the orphans of Kenya. If you or your church are not currently on our Prayer Warriors list, contact us so that we can be sure to add you. We have weekly prayer requests going out.

We have also started something new - gathering for a time of fellowship and prayer. We would be honored to come to your location, whether it is at your home or church, for a gathering. They are just very blessed times and we appreciate them so much. Let us know if you would like to schedule a gathering!

Mission Expedition 2023
Still time to apply for upcoming mission teams! Dates are TENTATIVE! If you prefer certain dates, now is the time to apply and inquire.

Spend your days immersed in the culture and lives of the children who call New Beginnings Children's Center HOME.

Show the love of Jesus to a remote community through home visits to their modest mud houses while taking supplies to the poorest widows.

Change their lives AND change your life...FOREVER!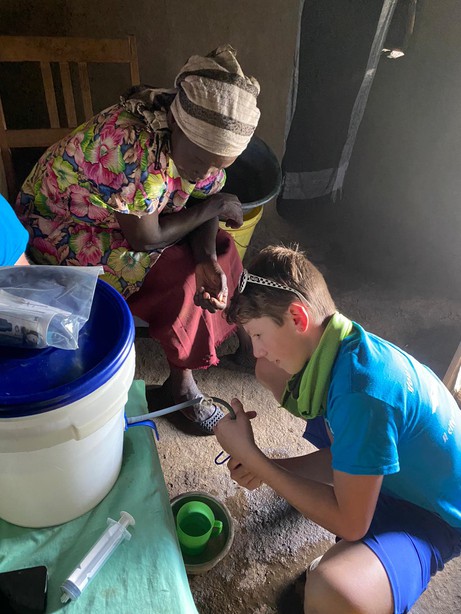 2023 Winter Trip
Tentative Dates for these teams are:
Jan 22 - Feb 5 (2 weeks) $1500 + airline ticket
Jan 8 - Feb 5 (4 weeks) $2000 + airline ticket

2023 Summer Trip
Tentative Dates for these teams are:
July 23-Aug 6 (2 weeks) $1500 + airline ticket
July 9-Aug 6 (4 month) $2000 + airline ticket

Visit our Missions page for more details or to download an application. You can also call us at 717-586-6945 for more information.

Travel as a group OR travel alone and make new friends who will serve with you.
Discounts for leaders (of groups of 10 or more) and we do all the training/planning. Make plans to bring your whole group. Must be 13 or older to travel without a parent or guardian.
Set up the dates NOW while there is plenty of space open.

Can't make these dates? Contact us for other dates. This is a unique opportunity to experience life in a very remote part of the world.
Don't pass it up!

Internship/Mentorship
For those who would like to spend a month or more with us, you can request to come as an intern or a mentor. Interns will be assigned a specific job to do while you are at New Beginnings. Mentors will work with one of our single mothers to mentor them into a better lifestyle and give them hope. Must be over 18 years of age to apply as an intern/mentor. Find details at our Long-term Missions page or contact our office for details!

Child of the Month - James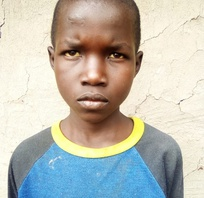 James is 12 years old and in 6th grade. His father is disabled and his mother is unable to care for all the needs for her family. James is a nice boy who has taken on many responsibilities for his age. He deserves a chance to get a good education and to enjoy being a child for a little longer. James is in need of a partial sponsor for $40 a month. Please pray for James and his family.

News from New Beginnings
Primary & Secondary School News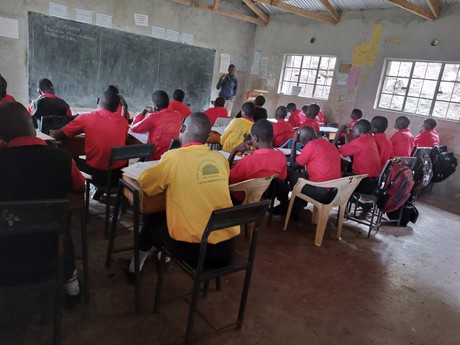 Both schools are moving along very well. The number of students in both our primary school and our high school have grown. We are working hard to ensure that our teachers are fully trained and continue to learn how to do the best job possible for our students.

Our preschool is still under construction but the students are using the new classrooms even during the construction process. The numbers in our preschool continue to grow.

Our goal for all our schools is to be the best in our sub-county. To assure that the children who come to learn are treated with respect and that we are a place where learning is a top priority.
Project Development News
Work continues on our final 2 preschool classrooms. Our goal is to have them completed by the end of August 2022.

Our female staff house is completed except for the finishing of the septic system for the toilets and the finishing the ceiling. Our women are so grateful to have such a nice place to call home when they are serving at New Beginnings. THANKS FOR GIVING!

We are still awaiting the inspection and meter box from the power company to move forward to install wiring to our building. We will then need some donations to make that possible.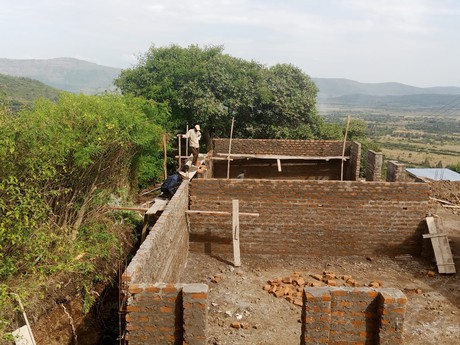 Building for their future:
PHASE V
Building for their future
Our electrical installation has been stalled awaiting the needed funding to continue. Please consider a gift to help us place electricity into each of our buildings. We have the electricity to our compound but await the needed wiring to install it into our buildings.

Renovations and Upgrades Total Donated Balance needed
Staff Housing for female staff $10,000 $10,000 $0
Electricity for the center $10,000 $3,000 $7,000
Girls Dormitory/Computer Lab $15,000 0 $15,000
Vehicle $30,000 0 $30,000
$65,000 $13,000 $52,000

Any size donation to our Building Fund will help us reach our goal. Donate TODAY!

"Now may He who supplies seed to the sower, and bread for food, supply and
multiply the seed you have sown and increase the fruits of your righteousness."
2 Corinthians 9:10
Please join us in praying for finances for these projects!

College/University Scholarship Program - The Next Step Program
Currently we have 10 students in colleges/universities throughout Kenya plus several who are serving as interns at New Beginnings as they prepare to go to colleges in 2022. Our scholarship program is a great way to invest in advancing a student's education past high school. You can give to help a certain student or donate to help any who are waiting.
Students currently attending on first year scholarships are Afline, Martha, Bruce, Octave, Jackline, and Kevin. Those preparing to go on to universities and colleges are Kevin, Newton, Emmanuel, and Ian.

Sometimes our high school graduates contact us when they have been out in the world for a little while and find themselves in great need of help to go the Next Step. Some who finish our program have found jobs or have family that will help them get to the next step, but sometimes our graduates really need just that extra hand up.

We have decided to start a new scholarship program to help these students. This is our Next Step Program. These formerly sponsored students come to serve our center as interns so that we can begin to train them and see if they are serious about this decision. Then we help them go on to colleges to help them move forward. Those currently in our Next Step Program are Jane and Susan. Felix and Sharon have recently been hired as part of our staff after completing training in different fields.

If you would like to give to help these graduates, your one-time or monthly donation of any size will make it possible. Currently we have several young adults working toward their goals. If you would like to help them, I know it would be greatly appreciated. Donate here and select 'College/University Scholarship Fund' to help a young person achieve their goals!

Jane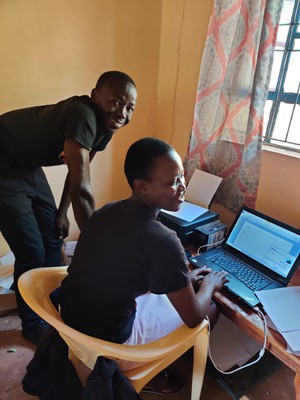 UPDATE: Jane is now attending a school to get her diploma in Social Work. She is just finishing her 1st year. She is so grateful for the help she has received to start her first year. She is still in need of support to see her the rest of the way through. Thank you for giving a hand up.

Susan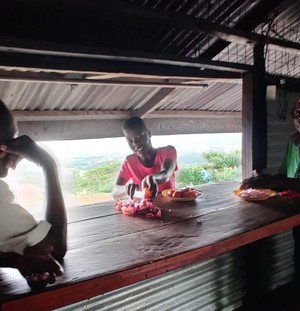 Susan finished our program with a certificate in food and beverage. She spent some time working in Nairobi. The big city did not really appeal to her and she later returned to our area and has struggled to find permanent employment. She is currently serving in our kitchen. She hopes to further her education in food and beverage.
New Mentorship Program
We are also seeing a need to start a mentor program for some of our girls who have really not been able to find their way and often end up pregnant and struggling. We are looking for people who might want to join us in Kenya for 1-3 months and work with some of these girls as a mentor to be the example of a better life and encourage them to walk with Jesus instead of on their own. This is a new program and we would value YOUR input on how to get this firmly in place.
Children in Need
Currently we have many children living at New Beginnings who have come in as emergency cases through our children's office. These children can use either a partial or a full sponsor to remain in our program. We need your help to find them sponsors. Visit our Sponsorship page to view more children in need.

Please share this great need with your family and friends.
Meet Linet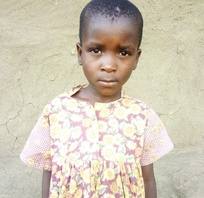 Linet is 6 years old. Since her mother's death her grandmother has struggled to care for her needs. She needs a sponsor.
Meet Patrick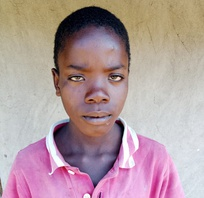 Patrick is 11 years old. After his father's death his mother abandoned the family. His grandmother struggles to care for him and his twin brother. Patrick needs help.

A child is praying...are you the answer?
100% of all sponsor donations go to help the children.

"..when you did it to the least of these...you were doing it to me!" Matthew 25:40
If you would like to sponsor a child, please visit our Sponsorship page to see which children have been praying and waiting for YOU!

If you do not wish to sponsor through Paypal you can instead let us know which child you'd like to sponsor and send a personal check to our address:
Shalom Christian Missions
1255 Mill Creek Rd
York, PA 17404

You can BE THE DIFFERENCE in the life of a child!

Shalom Christian Missions is a 501(c)3 non- profit organization,
dedicated to serving children in need throughout the world.
All donations are tax deductible.
Special Thanks to our Supporters:
A & R Rental Center - York, PA
Ann Downing Ministries - Hendersonville, TN
Crestline UMC - Crestline, OH
Eagle Christian Ministries - York, PA
Elisha's Home and Ministries - Montrose, PA
First Baptist Church - Smithville, TX
Great Reward Ministries-Wrightsville, PA
Hametown Associates - Glen Rock, PA
Harvest Chapel Children's Ministry - Abbottstown, PA
Kirkland Electric - Wedowee, AL
Mansfield Christian School - Mansfield, OH
Mt Gilead UMC--Shermansdale, PA
Trinity Lutheran Church - Crestline, OH
The Left Hand - Farmington, MO
Zion Bible Church - York, PA

We would like to add your business or ministry to our list! Contact us TODAY!
May God bless you as you pray and give to help the children!

Donations may be made through PayPal
or you may send your donation to:

Shalom Christian Missions
1255 Mill Creek Rd
York, PA 17404
(717) 586-6945